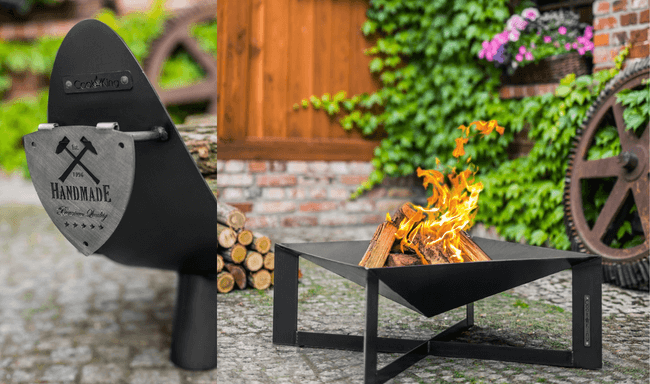 CookKing is the newest brand in the Firepit-online.com range. The range includes fire bowls, fire pits, various tripods, grills and garden accessories such as a torch stand. The products are manufactured in Europe by true craftsmen. The products are made of European steel that is of solid quality, giving them a long lifespan and making them perfectly suited to being outside even when it rains.
European quality
What makes CookKing's products unique is the high quality European steel from which they are made. The steel is of a good thickness and is untreated. This means that in contact with moisture, the products will rust, but this gives them a tough look and fits nicely into industrial gardens, for instance.
CookKing's craftsmen ensure that all parts are welded together instead of screwed. Not only does this look neater, the connections between the parts will also be much stronger than with a screw. With welding, the parts are made hot until they fuse together into one joint.
CookKing's product range
CookKing's range is very extensive and features a range of gardening products that will make your garden cosier. The range extends from fire pits to a wood storage and two premium grills. Now we will highlight some of the items that speak to the CookKing range.
Premium Grill Santos
The Premium Grill Santos is a unique item in the range. The grill consists of three parts, a pedestal with wood storage, a fire bowl and a grill plate with grill grid. The fire bowl can easily be placed on the base and then the grill plate can be hung in the fire bowl. The base has enough space to store firewood and to always have dry wood to hand. The grill plate is also available separately in this form for use in a fire bowl on the ground. The grill plate has a grill grid in the middle that is also removable. With the grill plate, you can fry the tastiest vegetables while easily grilling a hamburger in the middle. If you remove the grill plate from the fire bowl after frying, you can still warm yourself by the lovely fire.

Hamburg and Berlin smoker
Do you like a delicious smoke flavour in your food and do you like to try the technique of smoking yourself? Then check out CookKing's smoker ovens. The smokers are specially designed to smoke many ingredients and then enjoy them after several hours of smoking. The smokers come with handy extras so you can start smoking in the smoker straight away.
✓ 2 wooden pegs
✓ 6 hooks (3 small & 3 large)
✓ Smoke diffuser
✓Ash tray
Hang a real butcher's sausage or a tasty fish on one of the hooks and the smoking can begin. In the smoker, the smoke is circulated so that the flavour will soak in.
Fire bowls with wood storage
Within CookKing's range, you will find a variety of different fire bowls. For example, combine these fire bowls with a wood storage or choose the Montana fire bowl with integrated wood storage. If you love a good fire, dry firewood is indispensable. Therefore, a cool wood storage next to the fire bowl is always aesthetic and handy. But not only next to the fire bowl can a wood storage look cool. You can also place a wood storage next to the fireplace inside and directly light the fire of the fireplace.
Tripod with accessories
Apart from stoking fires, outdoor cooking is another part in which CookKing's range is located. With a simple fire bowl and a cool tripod with grill grid, simmer pan or wok, you can try out outdoor cooking in an easy way. CookKing has two sizes of tripods, 180cm high or 200cm high, with various designs to choose from. Will you go for a tripod with a standard grill grid and a handy pulley or are you just looking for a sturdy tripod to hang a wok on, for instance? The design of the tripod is slightly more detailed than a simple tripod consisting of three steel legs. The top of the legs is finished with a curl and at the bottom there are small details. The finishes on the legs give the tripod a classic look.

Complete range for your garden
Given the extensive range of garden fireplaces, fire bowls and even options for cooking, you can consider CookKing's range complete. If you only want to light a fire, you can go for a sturdy fire bowl or garden fireplace. But if you also love outdoor cooking and want to try out various cooking options, there are various grills and tripods for cooking. And all at a decent price and very good European quality. Which CookKing product do you like best?