Celebrate Easter at Firepit-online.com
The promotion has expired!
Easter is all about cosiness and atmosphere with family and friends. In 2022 we had a very nice action. Many people were able to cook outside or enjoy a nice atmosphere fire at Easter. Outdoor cooking is not only fun at Easter, but also in the summer or even in the autumn, outdoor cooking is very nice and cosy. In our assortment, you will find many fire bowls, garden fireplaces and barbecues to enjoy cooking outside. Give your garden the makeover it deserves with a beautiful garden fireplace or slave away on an outdoor kitchen for a delicious dinner! After dinner, you can linger at the table while enjoying a drink and an atmospheric fire. This year, the following atmospheric products were specially reduced for Easter.
The discounts on action products apply from 4 to 19 April 2022.
Ordered before 17.00h,

SAME DAY

shipment

Delivery from

STOCK

Pay later
Easter campaign at Firepit-online.com
It's almost Easter! And that means a great Easter promotion at Firepit-online.com. We offer great discounts to celebrate Easter this year. Easter is all about cosiness and atmosphere with friends and family. So, invite family, friends and maybe even neighbours for a delicious homemade Easter brunch, lunch or dinner. With the products from the Easter action in our webshop, you can easily prepare this brunch and receive everyone with pleasure. So take a look at the Easter promotions and order at a discount!
What exactly is Easter?
The Easter days are originally Christian holidays. On these days it is celebrated that Jesus Christ has risen from the dead. The days always fall on a Sunday and Monday. Easter eggs have their origins elsewhere. they represent rebirth and new life. The origin of these parts of Easter comes from a Germanic tribe in which a myth circulated about a goddess called Ostara. The goddess is said to have transformed a wounded bird into a hare, which then came to lay colored eggs every year. The eggs symbolize rebirth.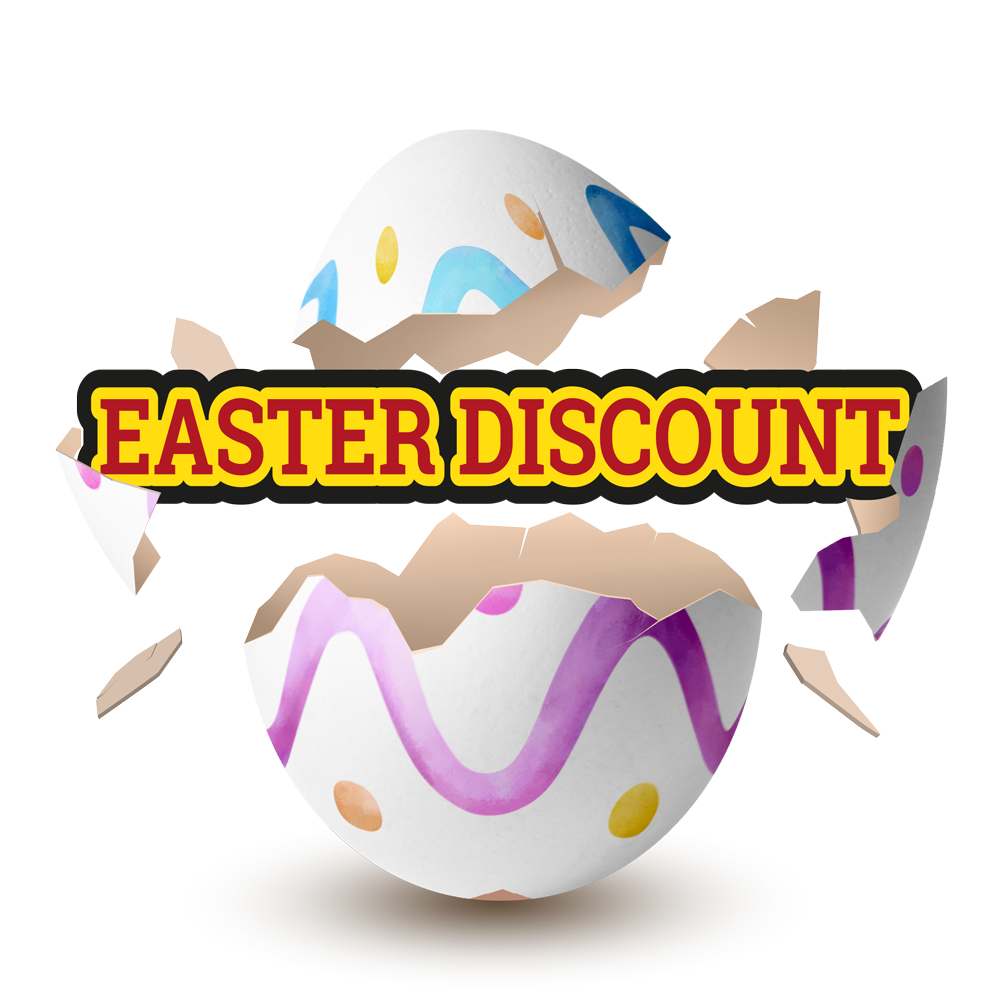 Fantastic discounts at Firepit-online.com
The Easter discounts at Firepit-online.com consist of bundle deals on the one hand and price reductions on selected products on the other. All discounts are given on the recommended retail prices. The bundle deals contain products of the beautiful brand BonFeu. A special discount is given on the total bundle which contains several products and accessories. Besides the bundle deals, we selected popular garden fireplaces, our bestselling fire bowl and a beautiful pizza oven with great Easter discounts starting at 33%! All discounts are included in the prices, so there is no need to enter a discount code. Check the Easter page to take advantage of our Easter discounts!
Promotion conditions
This Easter there are great discounts to be found on the website of Firepit-online.com. The Easter promotion starts on 4 April and is valid until 19 April.
Note: The products that are for sale in a bundle have the Easter discount only if you buy them in the bundles we put together, the price is already included. The individual products have discounts that apply to the individual product and are also included in the price.
Best deals!
Are you still missing that one atmosphere creator or outdoor kitchen to put down a delicious Easter brunch during Easter? At Firepit-online.com, we can provide you with beautiful products at great discounts this Easter. Check out the Easter page to buy your bundle or product. Order now!