With the Stokem outdoor fireplace atmosphere, enjoyment and wonderful warmth
A wood-burning stove in the garden creates warmth of course, but above all a wonderful, cosy atmosphere; for you alone or together with friends and family! Because of the door and the high stovepipe you will never be in the smoke and say it yourself, isn't this Stokem a beauty? The stainless steel colours as it is used, giving it a tougher and more industrial look.
Ordered before 17.00h,

SAME DAY

shipment

Delivery from

STOCK

Pay later
Stokem stainless steel garden fireplaces
Stokem is characterised by their authentic wood stoves. They are unique stainless steel stoves in black or a unique Stokem matt colour. The garden fireplaces are a real jewel in your garden and have a sleek but contemporary look. The fireplaces have a good stove pipe which leads the smoke pleasantly upwards.
An improved design
The new Stokem garden fires have had a small make-over. Especially the renewed door is a good improvement to this garden fireplace. The door is made of stainless steel and has a Robax glass. This type of glass can withstand extreme heat or extreme cold and is therefore extremely suitable for a garden fireplace.
The air supply through the door ensures that you can create two positions in the garden fireplace. With the door ajar, you create a sort of tornado effect and the flames become extremely high. You can also cook a delicious meal. Hang a hook on the inside of the fireplace and hang a Dutch Oven on it. In this way you use direct fire to prepare a pan. In this way, the garden fireplace is multifunctional because it can be used both as a fine and strong garden fireplace as well as a place to prepare some food.
The improved door and the stainless steel material of the fire ensure that the fire does not need a lot of firewood in order to get a good fire going and to enjoy the pleasant warmth.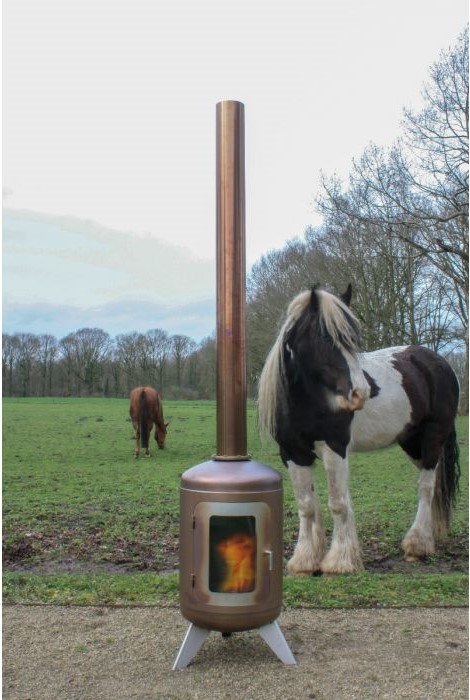 Aesthetics of the garden fireplace
The fireplaces have an industrial look because of the shape in combination with the stovepipe. This industrial look fits well in a garden with a lot of steel and sturdy garden furniture. However, the stove also goes well with a garden with many shades of brown. Because of these characteristics the stove can be not only functional but also aesthetic in many gardens.
Questions about Stokem?
Can you already see this garden fireplace shining in your garden and do you want to get started with your garden fireplace as soon as possible? Order before 17:00 and we will send your package the same working day! This way you can enjoy your Stokem garden fire as soon as possible! Are you interested in various other fireplaces? Then take a look at our page for garden fireplaces!