ADVICE ON TERRACE HEATING
You're probably about to buy a terrace heater. Which patio heater is best for you depends on a number of considerations. Would you like to hang up the terrace heating or would you prefer a standing gas heater? And which area would you like to heat? By following the steps below, we'll help you choose the right terrace heating.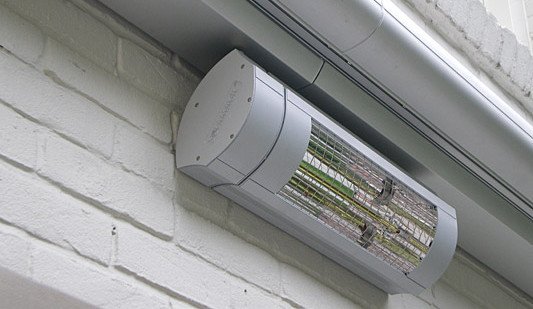 1. STANDING OR HANGING PATIO HEATER?
Do you want a standing terrace heater or a hanging patio heater that you can mount on the wall or ceiling?
STANDING TERRACE HEATING
The great advantage of a standing patio heater is that you can move it and that heat spreads to all sides. Standing patio heaters include the famous mushroom-models, but also flame heaters and lounge heaters. Flame heaters have a visible flame and provide the necessary atmosphere in addition to warmth. Lounge heaters are specially designed for lounge sets. They give off heat at the height of the seats.
HANGING PATIO HEATER
A hanging patio heater is easy to mount on the wall or the ceiling. The heating takes no extra space and you're always prepared. Hanging patio heaters include the round 'party tent heaters' that you can hang on a chain or cord and spread heat downwards. In addition, there are the famous long models that are mounted on the wall or the ceiling.
2. GAS OR ELECTRIC TERRACE HEATING?
Hanging patio heaters will almost always work with electricity. A standing terrace heater can work with both electricity and gas. The great advantage of terrace heaters that use gas, also called gas heaters, is that there are no annoying cables and that the patio heater is completely mobile. An electric patio heater is generally cheaper to use than a gas heater. An electric patio heater usually provides heat via a lamp. The lamp type is important for the way of heating. Golden Tube and halogen lamps warm the skin by means of radiation, while Carbon and Quartz lamps heat the surroundings, making them more sensitive to wind.

Read here more about the differences in electrical terrace heating.
All gas patio heaters
All electric patio heaters
3. WHAT AREA ARE YOU HEATING?
Most terrace heaters indicate how many square metres they can heat under ideal conditions. The heating range depends on the ability, the weather conditions and the shelter of the garden. To boost the heating range, you can of course use multiple patio heaters. A distance of approximately 70 cm is recommended with hanging patio heaters.
4. USAGE COSTS

In addition to the above choices, there are a number of things you can look for when choosing the right terrace heating. You could pay attention to the operating costs per hour of a patio heater. In general, gas patio heaters are more expensive in use than electric patio heaters. However, gas terrace heating on the highest setting also provides more heat than an electric patio heater.

Read here more about the cost for terrace heating.
5. DUST AND WATER RESISTANT
When choosing a patio heater you can also look at the dust and water resistance. The dust and water resistence is indicated by an IP value. A patio heater with a high IP rating can be left outside in the rain. For example, IP24, the 2 stands for the degree of protection against dust and the 4 for the degree of protection against moisture. When the degree of protection against moisture is 4 or higher, the terrace heating can easily stand a little rain and can thus always stay outside. Gas terrace heating is not waterproof and must be placed indoors during a rainstorm or protected with a protective cover.
6. DON'T FORGET THE ACCESSORIES
Of course, your patio heating is not complete without the right accessories. You'll always need a gas pressure regulator for your gas terrace heating . A gas pressure regulator ensures that the gas pressure in your gas bottle is reduced, so that it remains constant and suitable for your gas appliances. Please note that some gas patio heaters already include a gas pressure regulator. With electric patio heating it can be useful to use an extension cable, since the normal cord is often (too) short.
To protect your patio heater it is wise to use a cover. This, however, is not available for every patio heater. Would you like even more warmth and atmosphere in your garden? Have look at the selection of fire pits.
7. DO YOU HAVE ANY QUESTIONS?
Do you have additional questions or would like more advice on terrace heating? Our customer service is available 5 days a week.
Read here more about the differences in electrical terrace heating.