Electrical infra-red terrace heating
WHICH TYPE OF ELECTRICAL INFRARED TERRACE HEATING DO I NEED?
When choosing the right type of electric or infrared patio heater, a number of aspects are important. Firstly, the situation in which you use the patio heater is the most important. Is it a large or small surface? Is it a sheltered place or open situation with a lot of wind? And what kind of possibility to attach the patio heater do you have? Questions which you should ask yourself for the purchase of such a device. Firepit-online.com will gladly assist you here. Below you will find a short explanation.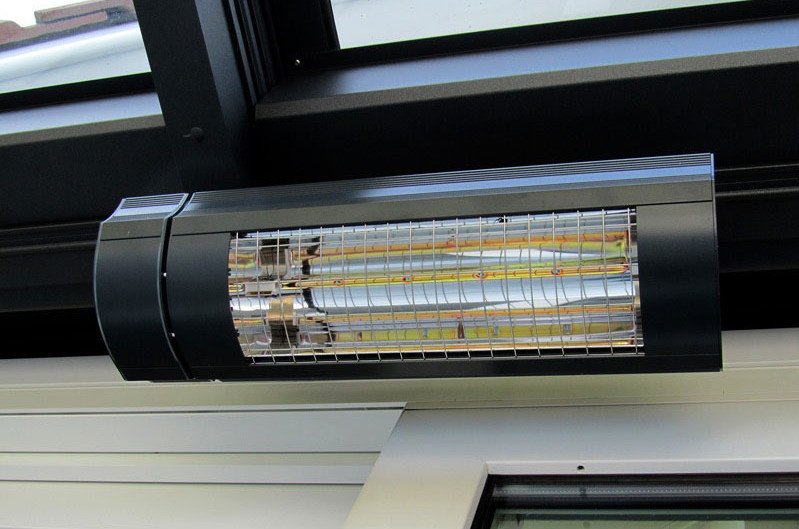 INFRARED TERRACE HEATING
Infrared means nothing more than heat radiation. Both patio heaters on gas and patio heaters on electricity therefore work via infrared radiation. Three types of infrared radiation are distinguished: short wave, medium wave and long wave.
Short or long wave
Long wave radiation is not visible, while a red glow will be detectable with short wave radiation. In the case of long-wave radiation, heat is created by heating up the air which is quickly lost on a slightly windy terrace. Short wave radiation can be felt immediately; penetrates directly into objects such as people who come across it. For this reason, infrared patio heating using short wave radiation is much more effective than long wave infrared radiation.
No harmful UV radiation
In addition, in some cases you will not want patio heaters that do not emit light. These heaters use long-wave infrared radiation. Short wave infrared radiation does emit light. It is not dangerous and also occurs in nature, with the sun as the biggest example. However, the harmful UV light from the sun is absent in infrared patio heating. The short wave infrared radiation is also used in the well-known red Philips (health) lamp. In the case of medium wave radiation, light is also visible, so these can be confused with the short wave terrace heaters that are much more efficient.
WE DISTINGUISH FOUR TYPES OF ELECTRIC TERRACE HEATING:
Firepit-online.com offers four types of electric terrace heaters. They use different types of heating elements, which makes the experience of the heat different.
1. QUARTZ HEATERS
quartz heating element is a long wave
the environment (air) of the heater is heated, the wind influences this heat
heat is comparable to the heat of the central heating
2. CARBON FIBER HEATERS
carbon fiber is a heating element with a medium wave
environment is heated with carbon fiber, including the objects around the heater
heat is comparable with the heat of the sun
3. HALOGEN HEATERS
halogen heating element is a short wave
halogen heaters ensure that man is heated, the body is heated from the inside by this heat
the wind does not affect this heat
4. GOLDEN TUBE
halogen heating element with a layer of gold leaf
more intense heat experience through reflection
gives more red light through extra reflection
OR PERHAPS A GASHEATER?
Also a terrace heater on gas gives a pleasant warmth and a cozy, cozy feeling. It is comparable to the difference of for example central heating and a fireplace. It is the same heat, only gives the fire an extra unique experience. The advantage of a gas heater is that it does not work on electricity. Ideal for a corner in the garden.
Disadvantages, on the other hand, are that the devices are not plug and play like an electric heater. The gas bottles have to be refilled regularly and gas heaters are generally much larger.