Happy Cocooning provides the ultimate lounge experience


Luxury gas fireplace, so no annoying smoke or sparks
The Cocoon table is a luxurious fire table and features a built-in gas fireplace. The stainless steel burner of this fireplace is nicely camouflaged by the included logs and lava stones, making the fire look like a real wood burning fireplace. And the big plus is that smoke or sparks will not bother you!
In addition, a gas fireplace is also very comfortable to use because it's very easy to switch on and off. An attractive fire in an instant. In addition, you don't have to worry about firewood.
For the storage of the gas bottle a special side table is available. These side tables are also available in different shapes and sizes and camouflage the gas bottle subtly. You have a convenient side table and the gas bottle is completely out of sight. Gas should be used with appropriate caution. To safely and comfortably enjoy your Cocoon Table, have it checked each year by a certified gas installer. Read here more about the safe use of gas bottles.
Durable and resistant to high temperatures
Cocoon Tables are made of composite, have a concrete look and are hardly distinguishable from real concrete. The advantage of composite is that the fireplaces are resistant to all weather conditions and very high temperatures. In addition, composite much lighter so you can easily move the fireplace. You can easily leave the Cocoon table outside. However, we recommend using the protective cover that comes free with the Cocoon Table.
Available in different designs, sizes and colours
The Cocoon tables are available in different colours and sizes. This varies from round and square to oval and rectangular. So there is always one that fits perfectly with your lounge set. There is also a series fire tables finished in beautiful teak wood.

A few Cocoon Tables: Oval and rectangular in the colours anthracite, black and taupe

Pleasant to use with a convenient control panel
Lighting the gas fireplace is very simple. Each Cocoon Table is equipped with an electronic ignition. Would you prefer a big flame or rather a somewhat smaller one? No problem, you can, of course, decide on the height of the flame yourself, using the practical dial. Both of them are neatly hidden away in a modest, stainless-steel control panel.
The Cocoon fire tables are manufactured by a Dutch company that is known by the name Happy Cocooning. For the selling of Cocoon Tables, they work closely with a carefully selected network of stores. The customer needs to be able to rely on sound advice concerning these stylish fire tables.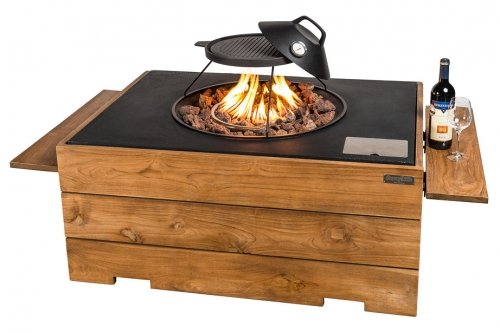 Teak wood Cocoon Table including a grill plate and side tables

This luxurious lounge fireplace can be further expanded with attractive accessories such as a nice grill plate, a fancy wine cooler or a practical side table. With Happy Cocooning comfortable lounging is guaranteed!
User and installation manuals Happy Cocooning



- Manual Cocoon Table
- Manual Built-in Burner