OFYR Classic 100 PRO
1 Review
4.75 out of 5 based on 1 reviews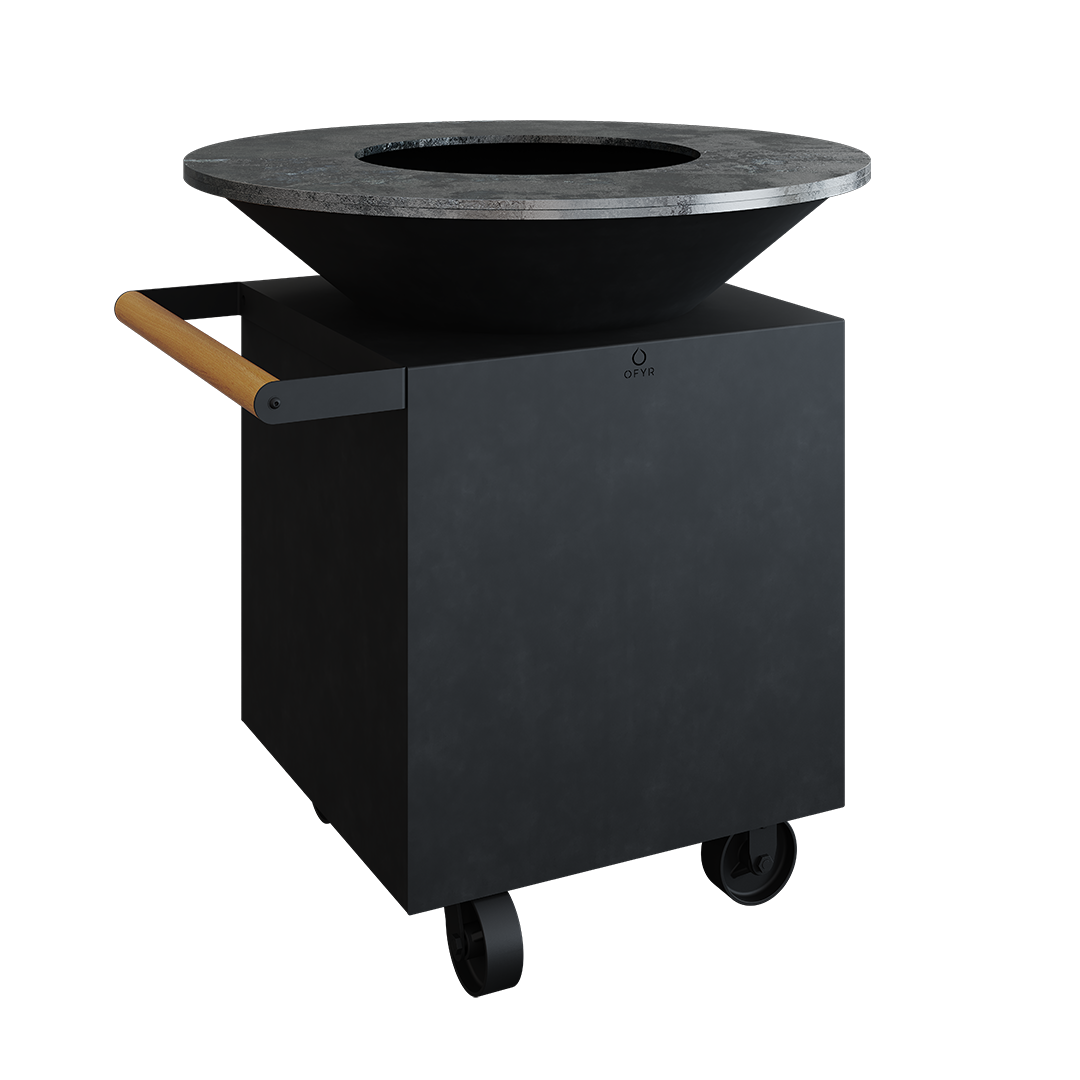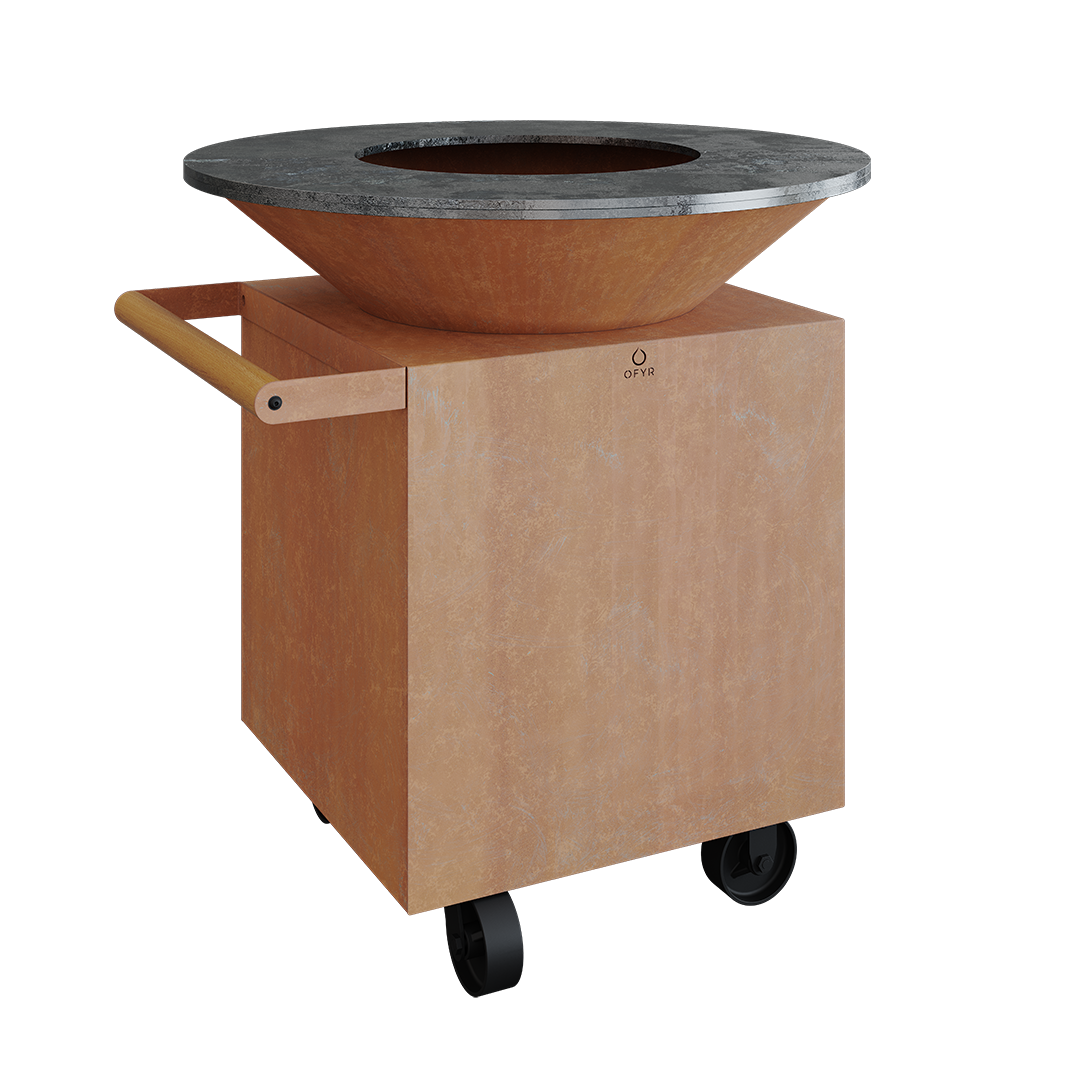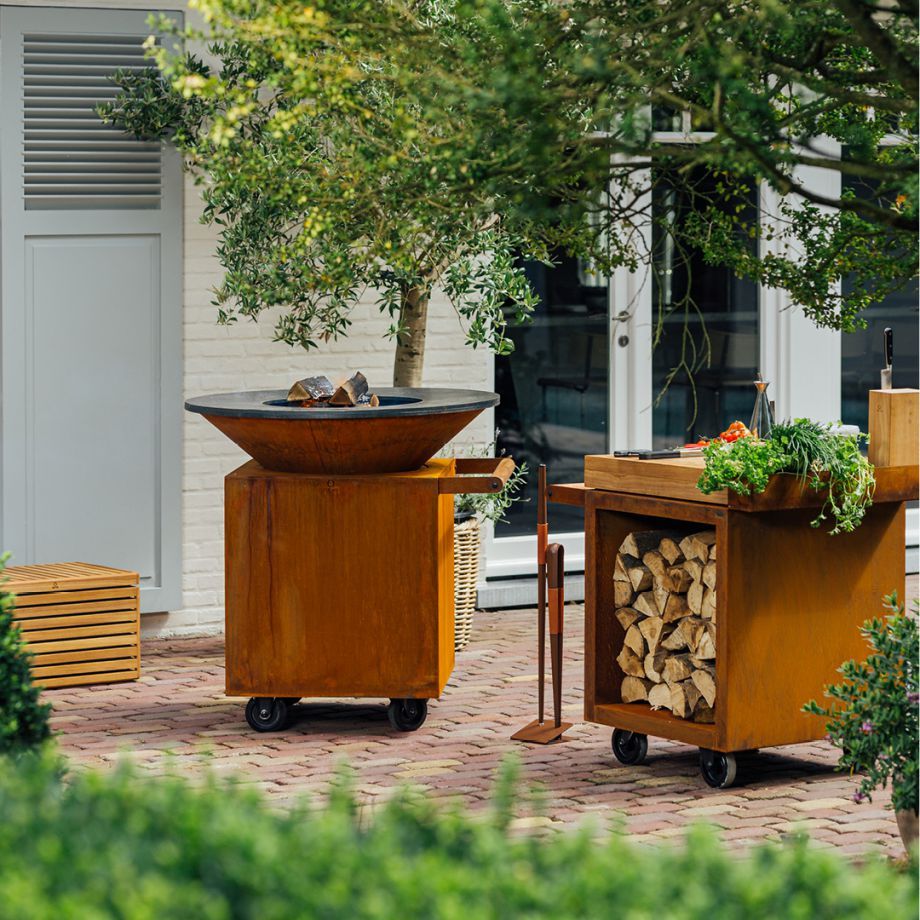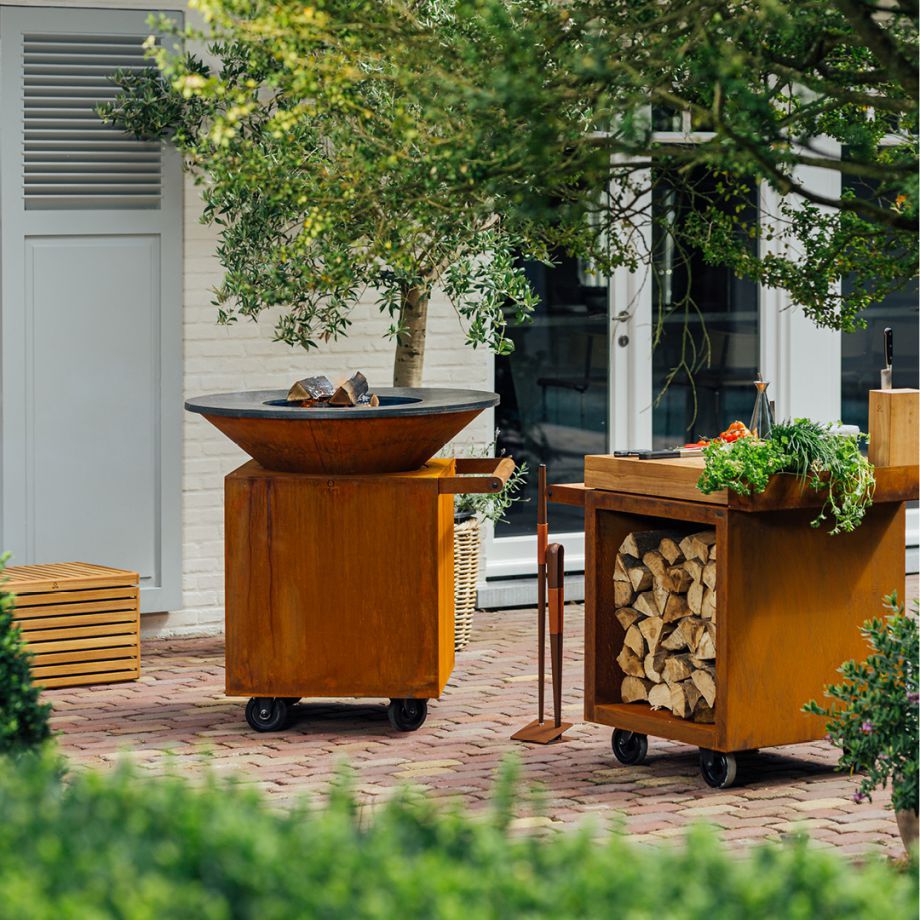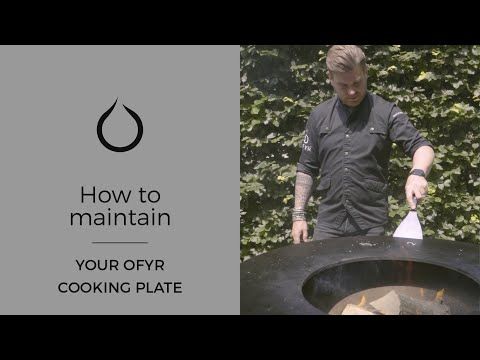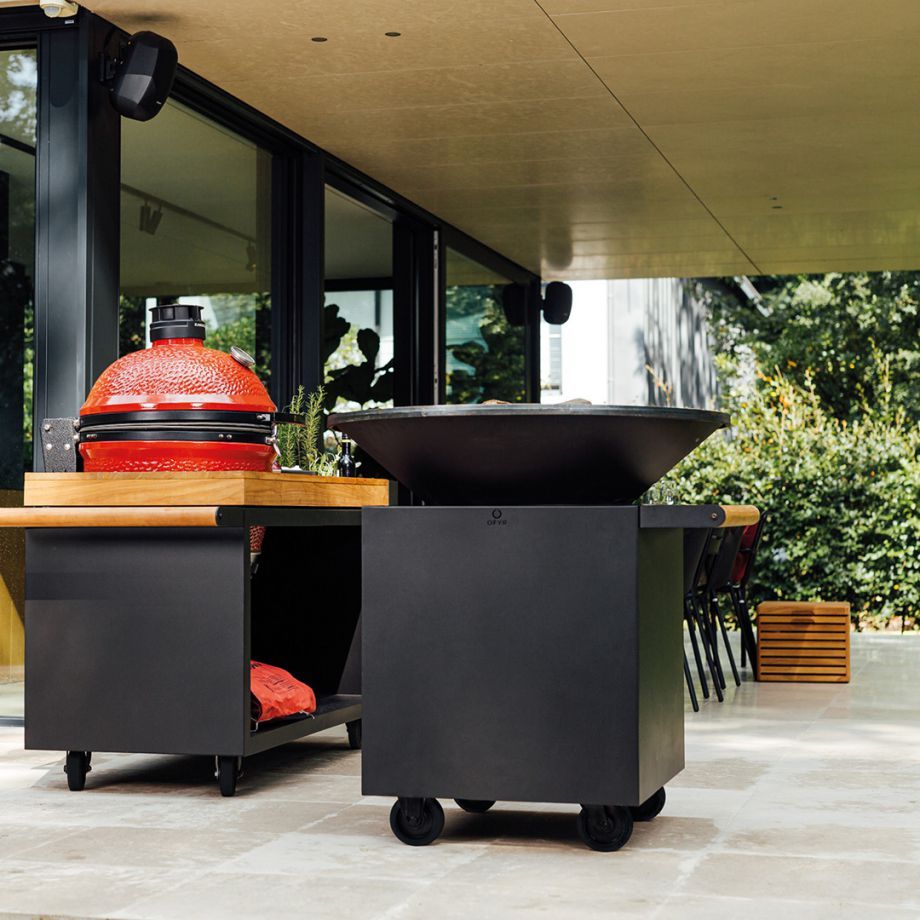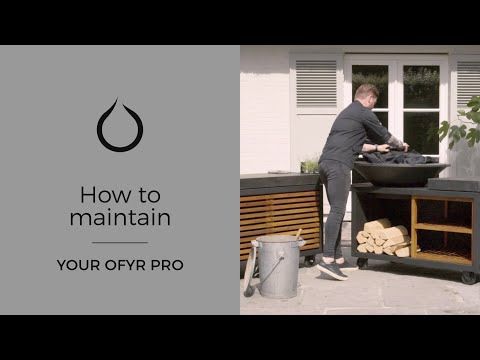 All products are for the European market

Ordered before 17.00h,

SAME DAY

shipment

14 day reflection period

Pay later
Accessories for OFYR Classic 100 PRO
OFYR Classic 100 PRO
The OFYR Classic 100 PRO is a beautiful mobile cooking unit with handle and wheels. It features OFYR's signature style and simplicity. The OFYR Classic 100 PRO not only looks great on its own but also in combination with other OFYR products such as the Butcher Block or an OFYR Mise en place table.
The OFYR is a functional work of art designed to enrich the outdoors with beauty, warmth, food and friendship. With its simple, classic lines, the OFYR is more practical and stylish than a normal barbecue and fits perfectly into any environment, from garden to chic restaurant terrace. When it's time for an outdoor get-together, this elegant work of art transforms into a warm, welcoming place to cook and entertain guests.
Cozy outdoors all year round with OFYR
Just like a traditional campfire, the OFYR brings people together. The wood-burning fire bowl gives off cosy warmth within a two-metre radius, allowing people to cook and eat outside in winter too. The OFYR has an innovative round design, so that family and friends can prepare their own food while enjoying a drink and a pleasant conversation.
With an OFYR, outdoor cooking is a party
The unique design of the OFYR makes it an incredibly versatile cooker. The conical fire bowl has a wide, flat edge (read: plancha) that also functions as a highly efficient cooking surface. From the centre, the heat radiates in a perfect flow, allowing one hob to have multiple cooking temperatures. Whether you are frying eggs, slow cooking vegetables or grilling a tender steak, the OFYR opens up a new world of possibilities for outdoor cooking.
The 12-millimetre thick baking plate is available with a diameter of 100 or 85 cm. The plate is heated up to approximately 300˚C by the wood fire in the fire bowl (coal is also an option, but is less fun because it does not burn). Grease the plate with oil and bake. The cooking surface is very large: the 100 cm diameter plate can easily accommodate 50 people.
Easy to use and clean
In contrast to other outdoor cooking devices, the OFYR is very easy to clean and virtually maintenance-free. Food remains and excess oil end up directly in the fire. The baking plate is very easy to clean because all the dirt is pushed into the fire. Afterwards, just wipe with a damp cloth and the OFYR is ready for use again.
Thanks to its three-part modular design, the OFYR can be easily moved. The cooking plate, fire bowl and base can easily be lifted and moved separately. The cone has a 2cm hole which allows rainwater to drain away neatly.
Made of durable Corten steel
The OFYR can remain outside in all weathers and does not need to be covered. The base and the brazier of the OFYR are namely made of a copper-bearing type of steel (corten). Corten steel is also known as weather-resistant steel. Characteristic of Corten steel is its brown-orange rust colour on the one hand, and its long lifespan on the other. The lifespan is so long because the first layer of corrosion stops further damage by rust, making painting unnecessary and maintenance very low. The more you use the OFYR, the more beautiful it becomes. Over time, the steel will take on a beautiful, natural patina.
A lifestyle object that fits into any environment
The OFYR is a true lifestyle object. The OFYR fulfils a function as an artistic object, which is a beautiful addition to the environment in which it is placed. Fire in its natural form invites you to enjoy its warmth throughout the year. The simple addition of wood allows this function to be exploited. The crackling fire contributes to a wonderful ambiance, transforming the Ofyr from an object to a fire basket and adding an extra dimension to a cosy get-together.
The OFYR Classic storage Corten 100 Pro in brief:
- Unique design
- For use as barbecue and fire pit
- Easy to move: fitted with wheels and handle
- Made from durable corten steel: the OFYR can be left outside all year round
- Available in black and corten steel
- Extremely suitable for catering purposes
Watch a short impression of the OFYR Classic below:
Read more
Specifications
| | |
| --- | --- |
| Brand | OFYR |
| Model | OFYR Classic 100 PRO |
| Article number | OC-100-PRO (Corten) | OCB-100-PRO (Black) |
| Material | Corten steel |
| Dimensions | Base 67 x 65 x 65 cm / Cone height 23,5 cm | Total = L 100 x W 100 x H 101 cm |
| Weight | Base 53 kg, Cone 22 kg en Plancha 55 kg |
| Fuel | Wood |
| Thickness steel cone | 3 mm |
| Baking tray thickness | 12 mm |
| Cone depth | 23,5 cm |
| Cooking surface | Ø98 cm |
| Baking tray material | Sheet steel |
Leo Schipper
Perfecte levering, flinke order geplaatst (Ofyr Classic 100 Pro ) met diverse accessoires. Alles op voorraad en in 1 keer geleverd op een pallet. Grote klasse vuurwerkwinkel !!!
Beste Leo, Hartelijk dank voor uw mooie review en tevredenheid! Wij wensen u veel plezier met uw hele mooie aankoop!
Other people also viewed these products
Bundles

OFYR Classic 100 PRO

€2,245.00

OFYR Grill grate 100

€205.00

OFYR Classic 100 PRO

€2,245.00

OFYR lid Black (Ø 100 cm)

€199.00

OFYR Classic 100 PRO

€2,245.00

OFYR Grill grate 100

€205.00

OFYR lid Black (Ø 100 cm)

€199.00

OFYR Classic 100 PRO

€2,245.00

OFYR Grill grate 100

€205.00

OFYR lid Black (Ø 100 cm)

€199.00

OFYR Leather apron

€159.00