Wood Burning Stove Cosistove Mid (9kW)
3 Reviews
4.4 out of 5 based on 3 reviews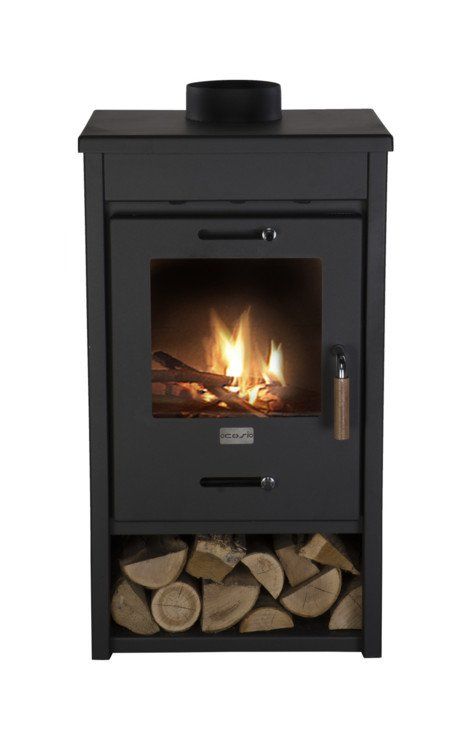 Wood Burning Stove Cosistove Mid (9kW)
All products are for the European market

Ordered before 17.00h,

SAME DAY

shipment

14 day reflection period

Pay later
Accessories for Wood Burning Stove Cosistove Mid (9kW)
Wood burning stove Cosistove Mid (13 kW)
Would you like to enjoy crackling wood and beautiful flames? You can! The Cosistove Mid brings a pleasant warmth and lots of cosiness to your home or garden. This single walled wood stove has a tough appearance and has a handy storage compartment for fire blocks and / or kindling wood.
Cosistoves; wood burning stoves for outside
The Cosistoves are fully-fledged wood burning stoves that are also very suitable for outdoor use. The stoves are made of durable steel. After frequent outdoor use, the Cosistoves can get some slight rust, but this increases the nostalgic feeling.
The stove stands on four solid legs and the fire room has a steel door with viewing window so you have a nice view of the atmospheric fireplace. Because the handle is equipped with a wooden inlay, it is not too hot to grip.
On the inside, the Cosistoves are equipped with ceramic refractory bricks. These will sustain the warmth. The oxygen supply is easily adjustable via the two sliders at the front of the stove.
The Cosistoves wood burning stoves are all equipped with a CE mark. This means that the stoves comply with the basic European requirements regarding safety, environment and health.
It is important to note that the Cosistove is not suitable for use in the home. Only light the Cosistove when it is placed in the garden or under the veranda. Because of the wood stove's single-walled material, it gets very warm and is ideal for heating your garden or veranda.
Placing a wood burning stove under your veranda
A ready-made package with smoke duct connection is available for the Cosistove Mood wood burning stove. With this complete package, mounting a Cosistove under your veranda or roof is probably easier than it looks at first sight. The necessary materials can all be purchased at the same time as the Cosistove. There are three standard packages for verandas and roofs for sale:
1. Complete set of roof gland flat/ pitched roof, roof covered with EPDM or bitumen
2. Complete set of roof gland inclined tiled roof
Each set contains a double walled rain hood, a meter of double walled pipe, a roof gland set, heat resistant kit and ceramic insulation blanket. It is important that a throughput is made in your roof first. The installation of the flue is then easy to do according to the supplied instruction sheet. Above you can indicate whether you wish to order the package directly.
In short, comfort, reliability and a striking design form the basis of this great wood burning stove Mood. With a wood burning stove for outside you will enjoy the afterglow of the summer longer. The soothing warmth that the fireplace radiates, gives a pleasant comfort.
The burning wood stove Cosistove Mid in short:
- Freestanding wood burning stove
- Sleek and tough design
- High radiant heat
- Single walled
- Maximum heat output 13 kW
- Can be closed with door with a viewing window
- Suitable for outdoor use
- Ready-made package with smoke duct connection available
- Stovepipe can be extended with Cosistoves Flue Pipe
50 cm
and
100 cm
- Suitable for outdoor use or under a veranda





Cosi Fires is a contemporary brand that brings outdoor living products to the market. Cosi has a complete range of gas fires for the outdoors in its collection. The products are also called the Hotspots. The meaning is twofold. The appeal of each Cosi Fire will develop into the Hotspot of your environment. The Cosi Fire is the centre of your garden/terrace. In addition to its appeal, the heat of the Cosi Fire completes the HOTspot feeling.
Cosi Fires is a brand name of the Gimeg Group. Gimeg has been an important player in the gas and heating industry for more than 100 years. The years of knowledge and experience in the gas and atmosphere fire sector come together in the designs of Cosi Fires. All gas fires have been tested by KIWA/Gastec.
Read more
Specifications
| | |
| --- | --- |
| Brand | Cosi |
| Model | Freestanding wood burning stove Cosistove Mid |
| Article number | 5957810 |
| Color | Black |
| Material | Steel |
| Dimensions | L 40 x W 45 x H 85 cm |
| Weight | 68 kg |
| Shape | Rectangle |
| Fuel | Wood |
| Diameter stove pipe | 15 cm |
| Type of heater | Single walled |
| Maximum heat output | 13 kW |
| Nominal heat output | 9 kW |
Klaus reitz
Alles i.O. , schnelle Lieferung
Lieber Klaus , Vielen Dank für Ihre nette Bewertung!
P. van de Camp
Deze kachel voldoet helemaal aan onze verwachting . In de showroom te Tilburg konden wij helaas dit model niet bekijken, maar medewerker Amir heeft ons op enthousiaste wijze informatie gegeven en beoordeeld aan de hand van onze meegebrachte foto's welk model het beste zou passen. Wegens verbouwwerkzaamheden in onze overkapping hadden wij al eerder de dakdoorvoer besteld, om geen problemen bij plaatsen kachel te verwachten. Helaas door geen voorraad kachelpijpen hebben we nu sinds half september nog geen gebruik kunnen maken van onze kachel. Jammer, en ik heb me ingeschreven voor email melding wanneer voorraad op peil is. Nu zag ik net dat kschelpijpen 100 cm weer op voorraad is, doch geen melding gekregen. Neem vanmiddag nog contact op. Verder keurige site, snelle korrekte levering, dus tevreden.
P.vdCamp
In showroom te Tilburg zeer goed ontvangen door Amir. Die helaas moest zeggen dat gewenste houtkachel niet in de showroom was opgesteld. Daarentegen, naast de eerste teleurstelling ( 1 uur durende autorit voorafgaand) werden wij op zeer enthousiaste wijze door de showroom heen gepraat, en ingelicht. Zeker zeer goede en informatieve uiteenzetting, en daarbij kwaliteit en warmteleverend vermogen van beoogde kachel besproken. Ook de prachtige Bakplaat van OFYR bekeken. Amir was fantastisch gezelschap, en daarna maandag opvolgend de gewenste Cosy Fire kachel besteld. Helaas wachten we op dit moment nog op benodigde kachelpijpen. Maar nu , wachtend op de warmte , eigenlijk al zeer tevreden over aankoop.