14 day reflection period
Pay later
If ordered before 17.00h.,

same day

shipment

All products are for the

European

market
Product description
Please contact us with any questions or for a quotation



Dimplex Vivente Revillusion

The Dimplex Vivente Revillusion is a true innovation in the field of electric ambient fires. The patented Revillusion fire effect creates lively and realistic-looking flames that rise from the centre of the fire. The natural flame creates the charm and atmosphere of a real fire.
The Vivente Revillusion is equipped with a heating element and the clear crystals, in combination with the traditional ceramic fire blocks, create a spectacular appearance. Vivente Revillusion is therefore a real eye-catcher in your room! Welcome to the future!
Easy to install and
Read more

comfortable to use

The Vivente is only 30.7 cm deep and requires no chimney or gas pipe. With one push on the button of the supplied remote control, this electric fireplace is lit: Plug and play. The Dimplex Vivente also fits beautifully into a cabinet wall, a sleek fireplace or even into a boat or caravan.

The lighting of Vivente uses the latest LED technology, which creates a wonderful effect. Choose from different colour themes or run through a range of colours and make your own choice. The Flame Connect app also makes it easy to control from your smartphone.
Available in three different sizes

The Dimplex Vivente is available in three different sizes: 75, 100 and 150. The built-in anti-reflective glass and ambient lighting themes allow you to adjust the Dimplex Vivente exactly as you wish. In addition, the Dimplex Vivente can be used as a 1, 2 or 3-sided ambient fireplace.

Cosy fireplace with heating element

The Dimplex Vivente also features a heating element. When you switch on the heating mode, the stove can emit 1.5 kW of heat. This distinguishes this stove from many other electric stoves and makes the fire even more realistic and atmospheric. As if you were sitting in front of a real fireplace....
The patented ComfortSaver® ceramic heating system also uses 11% less energy than the average quartz infrared heater by automatically adjusting the fan speed and heating power to the room size.
The Dimplex Vivente in short:
- Electric atmosphere fireplace
- Conveniently operated with the Flame Connect app
- Fire image based on the latest Revillusion flame technology (May 2021)
- With heating element, including thermostat
- Equipped with anti-reflective glass
- 3 display configurations (1, 2 or 3 sides)
- ComfortSaver® ceramic heating system reduces energy consumption by 11%
- Adjustable ambient lighting themes: choose from different colour themes
- Four different back panels can be used; Stone pattern, Black, Ribbed and Tile pattern
- Comes standard with four different back panels and remote control
- Equipped with overheating protection
- Lowest price guarantee
See below for a short impression

The Dimplex brand has been known for its beautiful fireplaces since 1844. Dimplex fireplaces are not only practical, they also have a beautiful design.
The Dimplex brand is part of Glen Dimplex Benelux and produces gas, electric and wood-burning fireplaces, among other things. The company is part of Ireland's Glen Dimplex Group. Glen Dimplex is the world's largest manufacturer of electric heaters and ambient fireplaces. In addition to its headquarters in Heerenveen, Glen Dimplex Benelux has branches in Belgium and Germany. Dimplex exports its products to 24 other European countries as well and one thing is certain: Dimplex provides warmth and atmosphere!
Read less
Specifications
Dimensions
Vivente 75 ( W 74 x D 30.7 x H 66.5 cm) | Vivente 100 (W 104 x D 30.7 x H 66.5 cm) | Vivente 150 (W 154 x D 30.7 x H 66.5 cm)
Installation dimensions
Required ventilation: 100 cm2
Glass/window dimensions
Vivente 75 (W 75 x H 34 cm) | Vivente 100 (W 100 x H 34 cm) | Vivente 150 (W 150 x H 34 cm)
Flame Engineering
Revillusion®
Heating capacity
1.5 Kw. ( 1 Heat setting)
Back panel
Stone Pattern, Black, Ribbed or Tile Pattern (All included)
Standard included
Four back wall options and remote control
Capacity
1500 Watt (1.5 Kw.)
Weight
Vinvente 75 (38 kg) | Vivente 100 (45 kg) | Vivente 150 (60 kg)
Connection voltage
230 V / 50Hz
Downloads
We found other products you might like!

Write a review about Dimplex Vivente Revillusion
And possibly win a € 100,- giftcard
This one!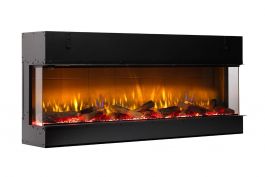 Dimplex Vivente Revillusion