€1,003.00
(retail price)
€701.00
14 day reflection period
Pay later
If ordered before 17.00h.,

same day

shipment

All products are for the

European

market

Dimplex Cassette 500R Opti-myst (water tank)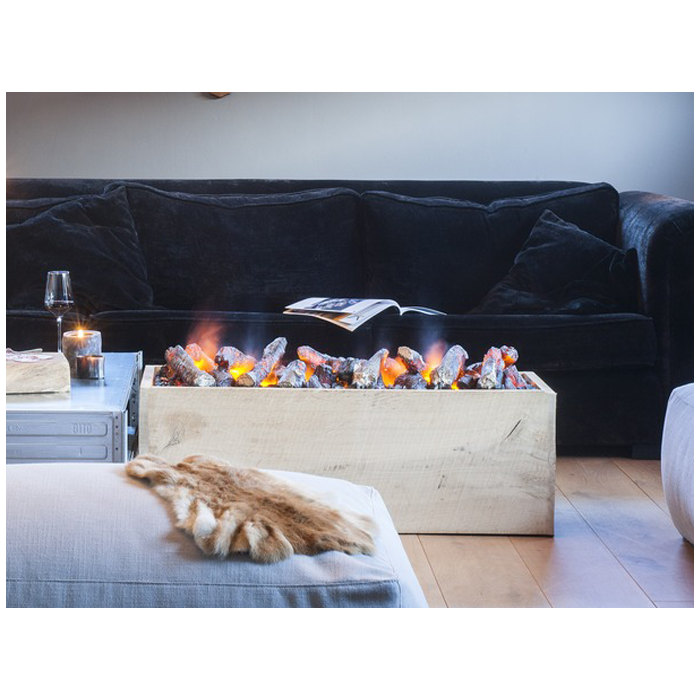 Product description
Dimplex Cassette 500R Opti-myst

The Dimplex Cassette 500R is a luxury fitted fire from Faber Dimplex. It has a long life and is economical because it is fitted with LED lights instead of halogen.
The special flames are created by illuminating water vapour. Dimplex is the first to use this technique. The fireplace contains a water tank that is very easy to fill. The water from the reservoir is heated and will evaporate. The LED lighting then does the rest. This Opti-myst fire consists of two colours and the lighting creates a natural 3D flame image and a realistic "smoke".
User-friendly built-in fire
The Read more Cassette 500R is easy to operate with the included remote control and can be used without supervision because it does not emit heat. The sound of the crackling fire is also adjustable. The Cassette is switchable, so you have enough expansion possibilities.
The difference with the Dimplex Cassette 500 is that the Cassette 500 can be connected directly to the water supply. This Dimplex Cassette 500R on the other hand is equipped with a water tank. This water tank is filled via the top of the cassette. This offers you the possibility to completely build the fireplace in the building. On a full tank the fire burns for 8-10 hours.
Add-ons
The Dimplex Cassette 500R can be expanded with the wood set 500 and 500L. The wood set 500 is particularly useful if you want to link several Cassettes together. The wood set 500L is for installation on one single cassette.
The Dimplex Cassette 500R Opti-myst in short:
- Electric fireplace
- Requires water and electricity only
- Supplied with remote control, switch and water connection by standard
- Fire effect created by Opti-myst Slimline
- Three-dimensional fire effect
- Atmospheric, comfortable and user-friendly
- Fitted with LED lighting
- Several cassettes can be connected to each other
- Not directly connectable to the water supply; in this case choose the
Dimplex Cassette 500
.
- Also suitable for restaurants and other businesses
See below for a brief impression of the ambiance created by this product



The Faber brand has been known for their beautiful fireplaces since 1844. Faber fires are not only practical but they are also beautifully designed.
The Faber brand is part of Glen Dimplex Benelux and includes gas and electric fires and wood stoves. The company is part of the Irish Glen Dimplex Group. Glen Dimplex is the largest manufacturer of electric heating systems and decorative fireplaces in the world. As well as its head office in Heerenveen, Glen Dimplex Benelux also has offices in Belgium and Germany. Faber exports its products to 24 other European countries. One thing is certain: Faber provides warmth and ambiance!
Read less
Specifications
Model
Cassette 500R Projects Opti-myst
Dimensions
W 50,8 x D 30 x H 22,6 cm
Type of fireplace
Fireplace insert
Flame Engineering
Opti-myst
Heating capacity
No heating function
Operation
Hand & remote control
Standard included
Remote control
Write a review about Dimplex Cassette 500R Opti-myst (water tank)
And possibly win a € 100,- giftcard