Installation tips for patio heaters
POINTS OF ATTENTION WHEN INSTALLING PATIO HEATERS
There are a number of important issues when installing patio heaters. Below we give you some tips for the proper installation of your patio heater.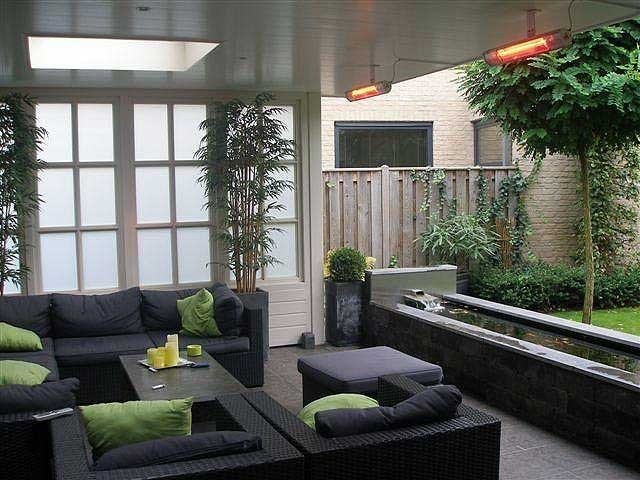 1. AT WHAT HEIGHT SHOULD A PATIO HEATER BE MOUNTED?
The installation height is a very important factor in the successful heating of a terrace or room. As a rule of thumb, we use the following heights:
| | |
| --- | --- |
| 1400 - 1500 Watt | Installed at approx. 210 cm from the floor |
| 2000 Watt | Installed approximately 250 cm from the floor |
| 3000 Watts or heavier | Installed at approx. 270 - 300 cm from the floor |
Of course, we can also reason the other way around here: often you are bound to a certain height, for example because the ceiling of a veranda is simply not any higher, or the patio heater must be mounted above a window or sliding door. In this case, please use the capacity as mentioned above. However, in order to prevent heat accumulation, we recommend a distance of approximately 45 cm between the patio heater and the ceiling (or the awning).
The most important reason for installing patio heaters at the correct height is that the manufacturer had a certain surface area in mind when designing them. If we deviate from this considerably, the heat will not be sufficient. Also, if mounted too low, people who sit close to the patio heater may find it too hot.
2. WHAT IS BETTER, HEAT FROM THE FRONT OR FROM BEHIND?
The heat from the front or the heat from behind is considered to be the most pleasant. Just look at what you do in spring when the sun begins to shine. You sit comfortably with your face to it.
Sometimes, however, it is not possible (or undesirable) to install the patio heater from the front. So don't take this too much to heart!
3. HOW MANY PATIO HEATERS DO I NEED?
The number of square meters indicated for a certain type of heater is determined by the manufacturer. The manufacturer assumes the most favorable situation.
| | |
| --- | --- |
| Closed space (conservatory) | 175 Watt per m2 |
| An absolutely sheltered terrace | 250 Watt per m2 |
| A normally sheltered terrace | 300 Watt per m2 |
| A moderately windy terrace | 350 Watt per m2 |

In practice this will be approximately
| | |
| --- | --- |
| A seat for 2-3 persons | 1 radiator of 1400-1500 Watt |
| A place or table for 4 persons | 1 radiator of 2000 Watt |
| A place or table for 4-6 persons | 2 radiators of 1400-1500 watts, or 2 of 2000 watts. |

When using several radiators, it is advisable not to place them too far apart. This gives a certain overlap in the area to be heated. Not quite sure? Then just contact us. Terrace heating is our business and we will gladly give you advice.
4. WHAT DO I NEED TO FIX THE PATIO HEATER?
All electric patio heaters in our range come standard with a wall/ceiling bracket. In standard situations, you do not need anything else.
However, sometimes it is desirable to install the patio heater in a parasol or on a windshield or a sunshade.
5. WHAT SHOULD THE ELECTRICAL INSTALLATION COMPLY WITH?
If you install a single patio heater of 1400 to 2000 Watts, then no special measures are required. If you want to connect multiple patio heaters or if you have any doubts, please read on.
A standard home installation is equipped with groups of 16A. On such a group you can connect devices with a total capacity of 3600 Watts.
If we reserve 1 group for patio heaters, we can connect to this group:
1 patio heater of 2000 Watt
2 patio heaters of 1400 or 1500 Watt
1 patio heater of 1400 or 1500 Watt + 1 patio heater of 2000 Watt
1 patio heater of 2800, 3000 or 3300 watts

(NB. the power of heaters is often indicated in Kw, 1 Kw = 1,000 W)
If you are connecting a patio heater to a group that already has existing equipment connected to it, we recommend that you find out in advance what the combined capacity of these devices is.
The pitfall:
Terrace heaters with a very high output all have the characteristic that they require a so-called peak current when they are switched on.
This peak current is a fraction of a second higher than 16A. Some installations cannot handle this peak current and the fuse in your meter box will blow.
We can solve this phenomenon in various ways:
Have your fitter replace the fuse in the meter cupboard with a circuit breaker with a so-called C characteristic. These fuses are designed for peak voltages.
Use a so-called soft start technique to switch and/or dim your patio heater. The use of Infresco™ soft start controllers also extends the life of the patio heater by up to 30%.
You do not quite get it? Please just contact us. Terrace heating is our business and we are happy to give you advice.
PREVENT FIRE RISK
Because there is no combustion, an electric heater is safer than a gas variant. However, one must take into account that the housing will sometimes become warm if the heater is on for a long time. It is therefore advisable not to mount the housing and the direct radiant heat of the lamp too close to flammable items.