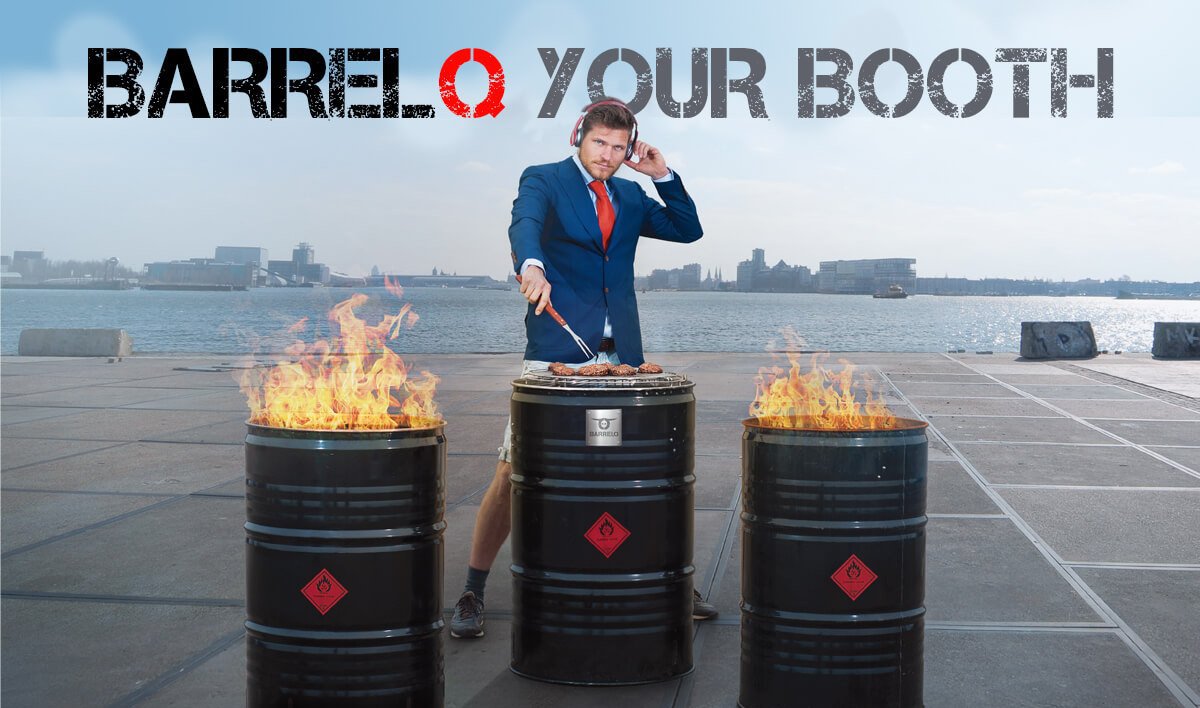 WHAT IS THE BARRELQ?
The BarrelQ is a barbecue, a fire pit, a designer item, an outdoor kitchen and an ego booster. It's totally vandalism proof, but we've attached a guide anyway.
WHAT DO I GET WHEN I BUY A BARRELQ?
The BarrelQ containing three holders, a basket with three legs and a grill grate. On the barrel is a lid with lid clamp.
WHY SHOULD I BUY A BARRELQ?
Because you're the boss in your home and want something different than the neighbours.
HOW DO I START BARBECUING?
On first use remove the sleeve from the barrel. Next, loosen the lid clamp and remove the lid of the barrel. Place the three legs in the three holes in the basket. Then place the grid on top, but not before filling the basket with briquettes or coals... And then: ready to go. Enjoy your meal!
IS THERE A WARRANTY ON THE BARRELQ?
Yes! The BarrelQ has 10 year warranty on the barrel. The basket and the grid have a five-year warranty. This applies to normal use and not to dents! And also not for the paint on the barrel. Sorry.
CAN I ALSO USE THE BARRELQ AS A FIRE PIT?
Yes! The BarrelQ is not only for barbecueing..! You can also use it as fire pit. For example, throw a load of wood at the bottom of the barrel and make a nice big fire. Enough space to make a really big fire. If you want to see the flames sooner: simply throw some wood in the basket. Beautiful too. A small warning: If you make a fire at the bottom of the BarrelQ the paint will become damaged sooner. That doesn't have to be a problem as it looks quite good. The choice is yours.
DOES THE BARRELQ HAVE DIFFERENT HEIGHTS FOR THE GRILL?
Again yes! The BarrelQ has two height settings. Setting 1 is when the legs fall exactly through the holes. The grid is then close to the heat source. If it goes too fast, turn the grid around and let it rest on the legs. We call this position 2, slightly further from the heat source...
HOW DO I EMPTY THE BARRELQ?
After a good BBQ session there will be remains or residues of whatever is put on fire at the bottom of the barrel . Therefore, once in a while, turn the BarrelQ over. Please note that there will be a lot of dust. Please do so in a suitable place.
HOW DO I KEEP THE BARRELQ BEAUTIFUL?
To keep the grill in good condition we advise you to rub some oil on it before barbecuing. Sunflower or olive oil. To prevent corrosion, it is also a good idea to rub some oil on both the legs and the holes for the legs. Do this often, not only at the end of the season when bringing the BarrelQ to the winter storage.