Verbruikskosten terrasverwarming
WAT KOST HET OM UW TERRAS TE VERWARMEN?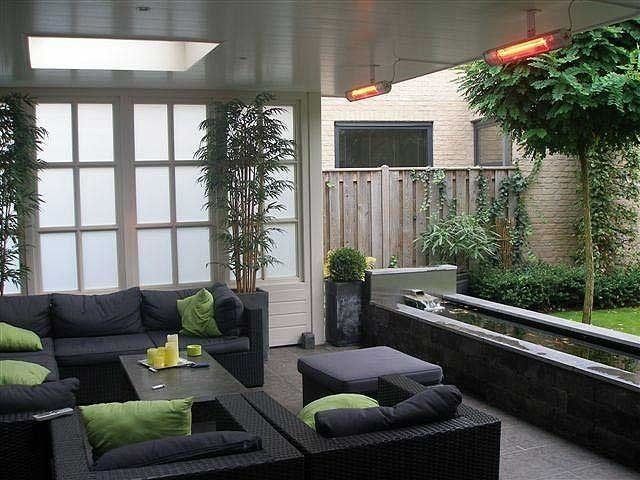 Het is vrij eenvoudig om te bereken wat een terrasverwarmer verbruikt. Dit is uiteraard afhankelijk van het type terrasheater, of u stroom of gas verbruikt en wat voor een contract u met uw energieleverancier heeft. In dit voorbeeld nemen wij een fictieve prijs voor elektriciteit van € 0,22 per kWh. Kijk voor de actuele prijzen van uw energieleverancier echter even op hun website.
VOORBEELDBEREKENING ELEKTRISCHE TERRASVERWARMING

Stel u heeft thuis een terras van 12 m² (zo'n 3.5 x 3.5 meter). Om dit terras ideaal te verwarmen zou u bijvoorbeeld 2 Solamagic 1400 terrasverwarmers kunnen plaatsen.
Een Solamagic 1400 verbruikt 1.4 kilowatt per uur. Twee stuks zullen dus per uur dus 2.8 kWh verbruiken. Zoals hierboven vermeld kost 1 kWh 0,22 cent. Dit komt dus neer op: 2.8 x € 0,22 = € 0,62 euro per uur.
VERBRUIKSKOSTEN VAN ANDERE TERRASVERWARMERS
Dit is slechts één voorbeeld, maar elke situatie is natuurlijk anders. Hieronder vindt u in een tabel het verbruik en de kosten per uur van een paar van onze terrasverwarmers. Hiermee kunt u berekenen wat terrasverwarming in uw situatie op basis van € 0,22 per kWh zal kosten.
| | | |
| --- | --- | --- |
| Terrasverwarmer | Verbruik per uur | Energiekosten per uur |
| Eurom Golden 1300 | 1.3 kWh | 0,29 eurocent |
| Solamagic 2000 | 2 kWh | 0,44 eurocent |
| Outtrade HWM2400 | 2.4 kWh | 0,53 eurocent |
| Eurom Golden 2500 | 2.5 kWh | 0,55 eurocent |

Voor een horecaondernemer zijn de kWh-kosten waarschijnlijk een stuk lager omdat dit extra energieverbruik waarschijnlijk in een gunstigere schaal m.b.t. de energiebelasting valt.
VERBRUIKSKOSTEN AARDGAS
Stel: 1 kWh is ongeveer gelijk aan de energie die 0,15 m³ aardgas oplevert.
0,15 m³ gas kost ongeveer 0,15 x € 0,95 = € 0,14. Hieruit volgt dat gas goedkoper is dan elektriciteit indien we voorbij gaan aan het feit dat het rendement van elektrische apparaten drie maar zo groot kan zijn. Met andere woorden: indien een gasgestookte terrasverwarmer net zoveel infraroodwarmte moet geven als een elektrische heater, dan verbruikt hij drie maal zoveel energie.