Veel gestelde vragen over de BarrelQ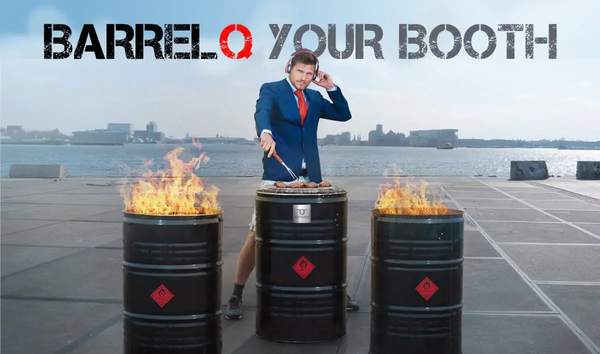 WAT IS DE BARRELQ?
De BarrelQ is een barbecue, een vuurkorf, een designmeubel, een buitenkeuken, en een egobooster. Hij is totaal hufterproof, maar we hebben toch een handleiding gemaakt welke netjes wordt bijgevoegd.
WAT KRIJG IK ALS IK EEN BARRELQ KOOP?
De BarrelQ met daarin drie houders, een mand met drie staanders en een grillrooster. Op het vat zit een deksel met dekselklem.
WAAROM ZOU IK EEN BARRELQ KOPEN?
Omdat jij baas in eigen huis bent en iets anders wilt dan de buurman.
HOE BEGIN IK MET BARBECUEN?
Bij eerste gebruik haal je de hoes van het vat. Vervolgens maak je de dekselklem los en haal je de deksel van het vat. De drie staanders plaats je in de drie gaten in de mand. Daar plaats je vervolgens het rooster op, maar natuurlijk niet nadat je de mand heeft gevuld met briketten of kolen…..En dan: ready to go. Eet smakelijk!
ZIT ER GARANTIE OP DE BARRELQ?
Ja! De BarrelQ heeft 10 jaar garantie op het vat. Op de mand en het rooster zitten vijf jaar garantie. Allemaal bij normaal gebruik en niet voor deuken! En ook niet voor de verf op het vat. Sorry.
KAN IK DE BARRELQ OOK GEBRUIKEN ALS VUURKORF?
Jazeker! De BarrelQ is niet alleen om mee te barbecuen..! Je kunt hem ook gebruiken als vuurkorf. Gooi bijvoorbeeld flink wat hout onder in het vat en steek de boel in de hens. Kun je echt een behoorlijk fikkie maken. Als je sneller vlammen wilt zien: gooi dan gewoon wat hout in de mand. Ook mooi. Wel een kleine waarschuwing: als je een fikkie steekt op de bodem van de BarrelQ gaat de verf er wel eerder af. Dat is niet verkeerd want dat staat ook mooi. De keuze is aan u.
HEEFT DE BARRELQ VERSCHILLENDE STANDEN VOOR HET GRILLROOSTER?
Wederom ja! De BarrelQ kent twee standen. Stand 1 is als de ogen precies op de staanders vallen. Het rooster zit dan dicht bij de hittebron. Gaat het je allemaal te snel, draai dan het rooster om en laat de rand rusten op de staanders. Dit noemen wij stand 2, iets verder van de hittebron….
HOE LEEG IK DE BARRELQ?
Na een goede barbecuesessie ligt er onder in het vat brikettenresten of resten van wat er ook in de fik gestoken is. Keer de BarrelQ daarom 1 keer in de zoveel tijd om en gooi het vuil eruit. Let op: daar komt de nodige stof bij vrij. Doe dit dus op een slimme plek.
HOE HOUD IK DE BARRELQ MOOI?
Om het rooster mooi te houden adviseren wij jou om het voor het barbecuen even in te smeren met een beetje olie. Zonnebloem- of olijfolie. Om roestvorming te voorkomen is het tevens een goed idee om zowel de staanders als de gaten voor de staander even in te smeren met wat olie. Dit hoeft niet alleen aan het einde van het seizoen als de BarrelQ naar de winterstalling gaat.