Tips voor gebruik en onderhoud van beschermhoezen
Tips voor gebruik en onderhoud van een beschermhoes

Ons assortiment beschermhoezen is van een hoge kwaliteit, weersbestendig en veelal van waterdicht polyester. Door op een aantal punten te letten bij het gebruik van de beschermhoes wordt uw tuinset, parasol, loungeset of tuinhaard beter beschermd.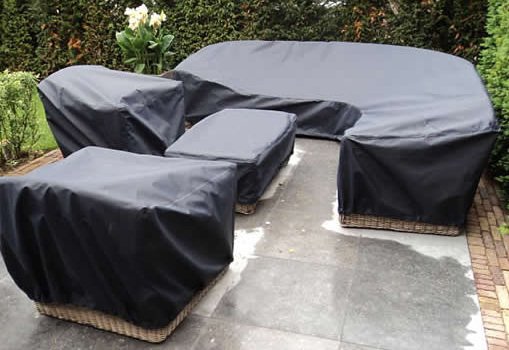 1. Zorg voor voldoende ventilatie
Zorg ervoor dat u voldoende ventilatie creëert zodat de beschermhoes kan ademen. Leg de hoes nooit plat op een tafelblad. Zorg voor afstand tussen de beschermhoes en het blad door er bijvoorbeeld een bakje, bal of emmer onder te zetten. Creëer op dezelfde wijze ook altijd een hoogste punt zodat water van de hoes af kan glijden en er geen waterzakken kunnen ontstaan.
Veel beschermhoezen zijn voorzien van een elastisch rijgkoord met stopper aan de onderzijde. Het is belangrijk dat er onderlangs lucht kan circuleren door de beschermhoes. Trek het koord daarom niet te strak aan, zodat de hoes kan blijven ademen.
2. Op tijd doorluchten
Laat tuinkussens nooit voor langere tijd (weken) onder de beschermhoes liggen. Haal geregeld de tuinmeubelhoes van uw meubelen zodat deze weer goed kunnen doorluchten.
3. Opslaan in een droge omgeving
Sla kussentassen binnen op. Zorg dat uw tuinmeubels, parasoldoek en/of tuinkussens droog zijn alvorens deze af dekken. Voorkom hiermee schimmelvorming.
4. Niet te dicht bij beplanting plaatsen
Andere factoren die de werking van de beschermhoes bepalen zijn wind en beplanting. Wind kan de binnencoating aantasten en beplanting kan gaatjes in de beschermhoes veroorzaken. Zorg dat de tuinmeubelen zoveel mogelijk uit de wind staan en plaats ze niet te dicht bij beplanting met doornen.