Voordelen terrasverwarming horeca
Meer omzet met terrasverwarming voor de horeca

Tijdens het terrasseizoen stijgt de omzet van horecaondernemingen met een terras aanzienlijk. Zeker op zonnige dagen en tijdens de weekenden stromen de terrassen vol. Om gasten ook in de avonduren na zonsondergang een comfortabele plek te bieden maken is een goede  terrasverwarmer onontbeerlijk.
Daarnaast is een verwarmd terras met het huidige rookverbod in de horeca eigenlijk een absolute must geworden. De horeca ondernemer wordt min of meer gedwongen maatregelen te nemen om het de roker naar de zin te maken.

Zomerse sfeer met één druk op de knop
Uw horecazaak kan relatief snel en tegen een lage investering vergroot worden door het plaatsen van terrasverwarming. Het terrasseizoen wordt langer, de avonden worden langer en u kunt dus veel meer gebruik maken van uw terras. Dit zal uiteraard meer omzet genereren. Al van veraf kunnen gasten zien dat uw café, restaurant, hotel of uitgaansgelegenheid voorzien is van heaters. De keuze is dan snel gemaakt tussen een verwarmd terras of een koud terras. Daarnaast zorgen de klanten op uw terras voor een aantrekkelijk aanzicht, wat uitnodigend werkt en extra klanten trekt. De investering in comfortabele terrasverwarming is waarschijnlijk op korte termijn terugverdiend.

Speciale terrasverwarming voor de horeca... 
Ook in uw restaurant, café of hotel kunnen mensen comfortabel en in stijl buiten genieten. De infrarood terrasverwarming voor de horeca die wij verkopen is efficiënt en geluidloos.
Er zijn twee verschillende soorten infrarood terrasverwarmers: Terrasverwarmers die werken op basis van elektriciteit en terrasverwarmers die werken op gas. Terrasverwarming op elektriciteit is eenvoudig te gebruiken en de capaciteit is vaak voldoende voor een klein terras. Elektrische terrasverwarmers kunnen vaak permanent aan de gevel gemonteerd worden. Dit scheelt veel gesleep tijdens het terrasseizoen.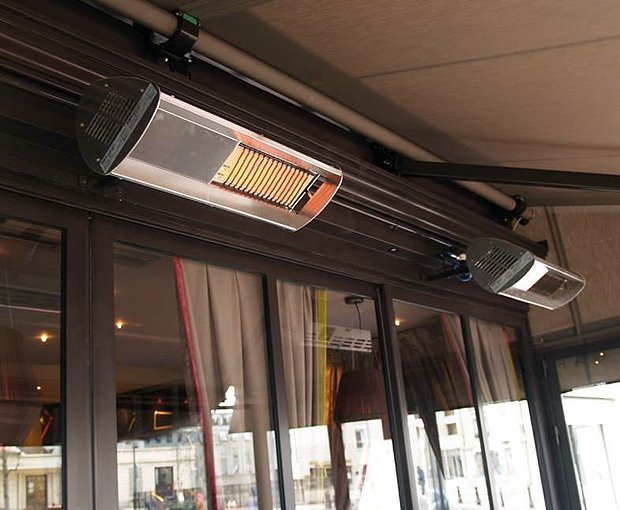 Terrasverwarmers op gas

Voor grotere terrassen is een terrasverwarmer op gas aan te raden. Terrasverwarmers op gas hebben een zeer hoge capaciteit en zorgen voor een heerlijke stralingswarmte.
Deze efficiënte gasgestookte verwarmingssystemen bieden niet alleen de gasten, maar ook de horecabedrijven vele voordelen. Bovendien kunnen een aantal toestellen probleemloos op het gasnet aangesloten worden.
Met gasgestookte infraroodverwarming, die men als bijzonder aangenaam en behaaglijk ervaart, kunnen buitenruimtes comfortabel verwarmd worden. Gas-infrarood terrasstralers dragen de opgewekte warmte – net zoals de zon – in de vorm van infraroodstraling over. Pas wanneer de straling op het lichaam of een oppervlak komt, wordt deze in voelbare warmte omgezet.

De terrasverwarming van Schwank
Schwank heeft terrasverwarmers ontwikkeld, die in het bijzonder de eisen in de horeca met betrekking tot een korte terugverdientijd garandeert. De terrasstraler werkt op aardgas en laat zich door het strakke ontwerp gemakkelijk invoegen in de architectuur van het gebouw en het buitenaanzicht van de horecagelegenheid.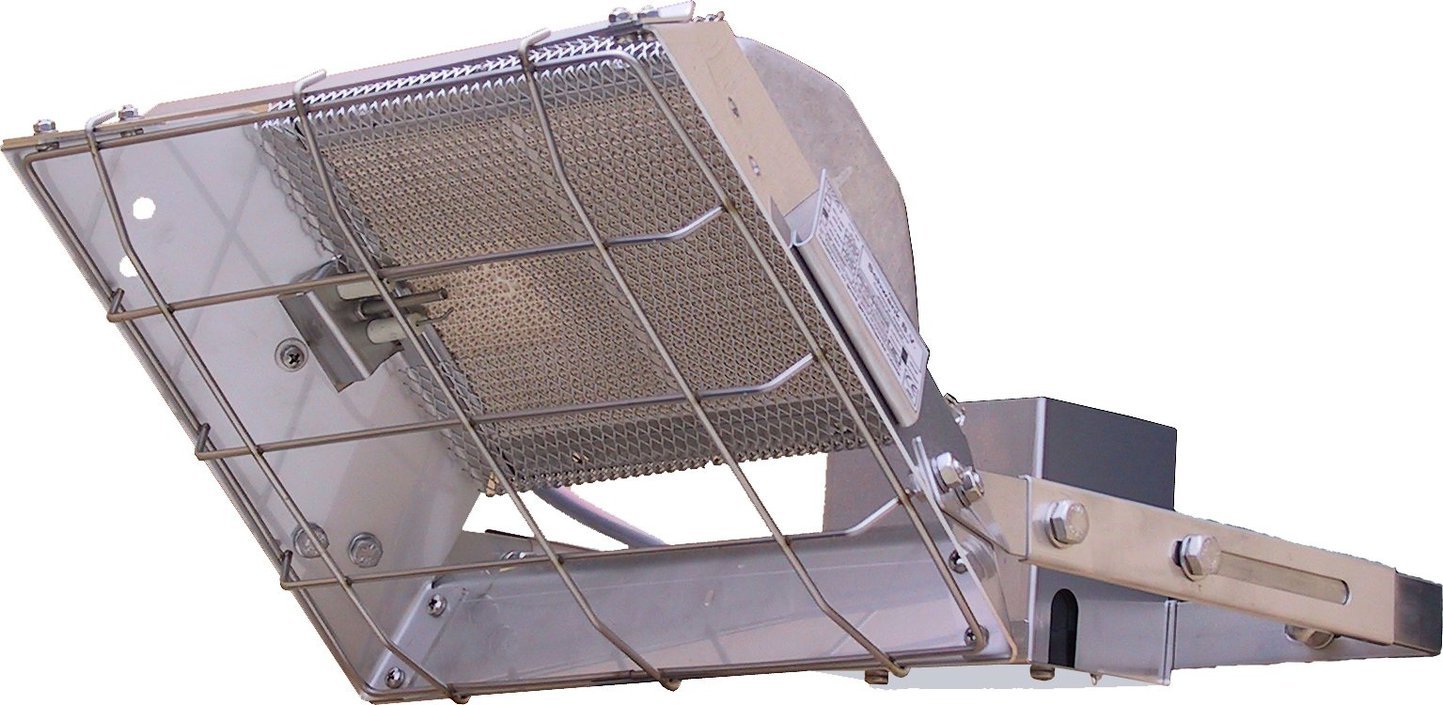 Een aantal voordelen van Schwank in vergelijking tot standaard gasheaters (op propaan):
-  Makkelijk in het gebruik (geen opslag of uitruilen van gasflessen nodig)
-  Gemiddeld 62% energiebesparing dankzij vooruitstrevende brandertechnologie
-  Opbergen of aan de ketting leggen niet nodig: geen beschadigingen door transport of het weer
-  Er gaan geen zitplaatsen verloren dankzij ruimtebesparende montage aan de muur
-  Direct voelbare, aangename warmte
-  Gelijkmatige temperatuurverdeling over grote - oppervlakken - geen hotspots
-  Windbestendig dankzij WindSecure System; de vlam kan door de wind amper uitgeblazen worden
-  Net zo makkelijk aan te zetten als de verlichting
-  De buitenruimte kan het hele jaar door gebruikt worden (in combinatie met regen- en windbescherming)
-  Kwaliteit "Made in Germany"
-  Vergeleken met elektrische verwarmingstoestellen zijn de exploitatiekosten duidelijk lager.



Terrashaard gas
U ziet ze tegenwoordig op vele horecaterrassen en kent ze wel: de terrashaard op gas. Of het nu een Sunwood Marino of een Faber The Buzz betreft, u kunt deze stijlvolle buitenhaard letterlijk aan tafel schuiven. De gashaard zorgt voor warmte en sfeer op de plek waar die het meest van past komt: gewoon bij uw gasten aan tafel.



Een haard zoals de Sunwood Marino kan tot wel 35 uur branden op een volle gasfles. Dit betekent dat uw gasten optimaal kunnen genieten van de sfeer van onze buitenhaard, terwijl u slechts een keer per week de fles hoeft te verwisselen. De gasfles kan bij deze buitenhaarden overigens netjes onderin de haard worden opgeborgen.

Terrasverwarming goed voor de omzet
Uit onderzoek is gebleken dat er een relatie bestaat tussen het bezit van terrasverwarming en omzet. Een ruime meerderheid van de horecaondernemingen (81%) met een terrasverwarmer genereert meer omzet dan horecaondernemingen zonder terrasverwarmer. Het is dus absoluut de moeite waard om de mogelijkheden voor comfortabele terrasverwarming na te gaan.
De voordelen van terrasverwarming in de horeca:
- U krijgt meer ruimte om gasten te ontvangen
- Er is activiteit op uw terras, wat uitnodigend werkt
- Rokende gasten zullen met plezier buiten een sigaretje roken
- Investering is op relatief korte termijn terugverdiend
- Ruime keuze uit elektrische-, propaan- en aardgasheaters
Helder advies vereist
Nieuwsgierig geworden naar alle voordelen van onze terrasverwarming? Bekijk dan de mogelijkheden binnen de webshop of neem contact met ons op voor een helder advies. Wij horen graag wat we voor u kunnen betekenen!
Wilt u direct een advies/offerte op maat ontvangen? Bel ons dan op 013-5451966 of stuur een e-mail en u ontvangt zo snel mogelijk een voorstel.