OFYR Workshop
Wat is er nu leuker en gezelliger dan heerlijk buitenkoken met familie en vrienden? Avonden lang (zomer of winter) in goed gezelschap genieten van meerdere gangen, steeds weer andere technieken uitproberen en stapje voor stapje verder gaan met uw culinaire ontdekkingstocht. Als één kooktoestel écht uitnodigt om er een culinair festijn van te maken, dan is het de OFYR wel.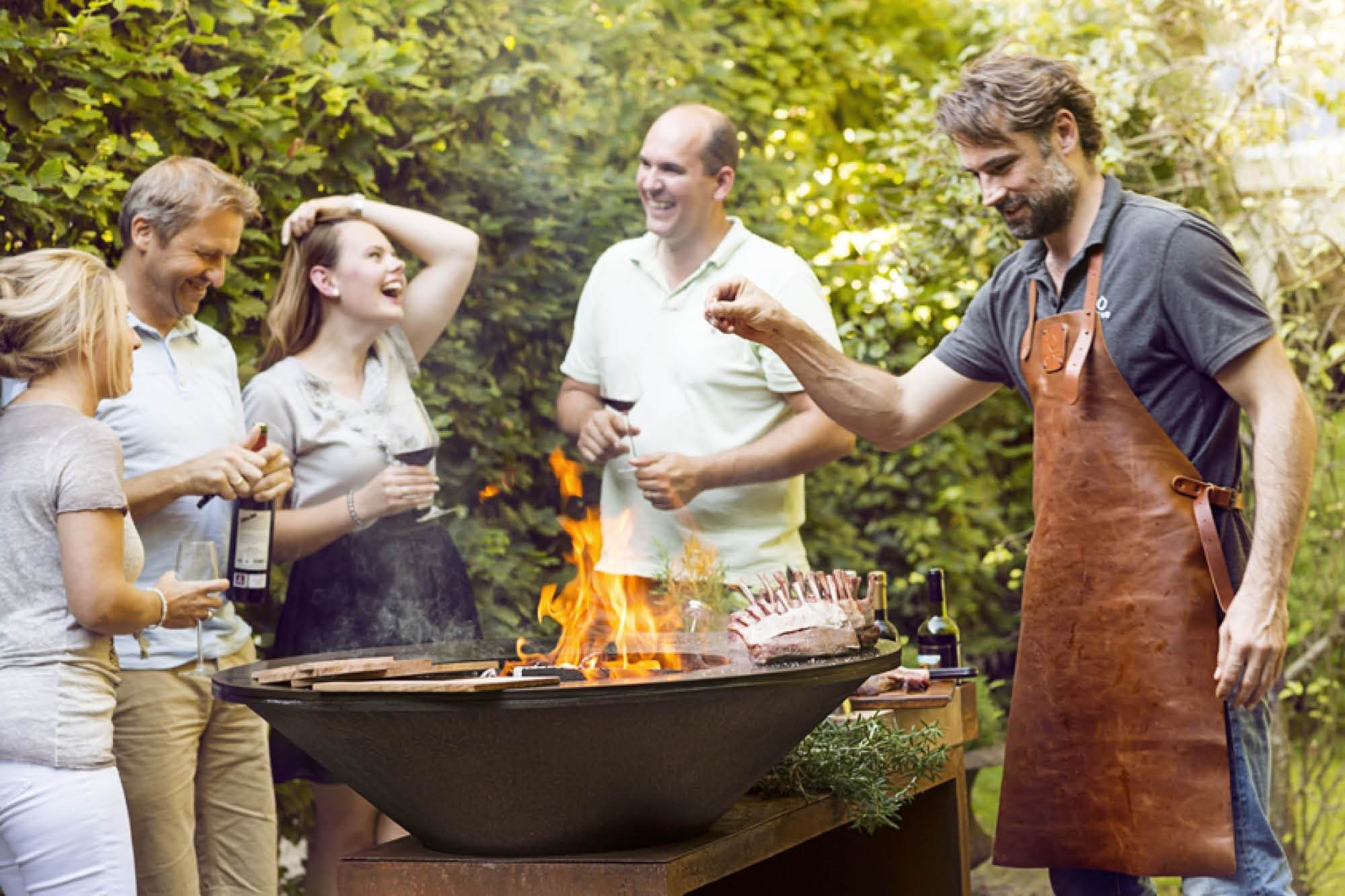 Culinair koken op de OFYR
De OFYR is niet alleen visueel een sieraad in de tuin, maar u kunt er ook culinair alle kanten mee op. Het is een spectaculaire vuurschaal met bakplaat/plancha. U kookt en grillt boven een open vuur en dat blijft toch de basis! Of het nu gaat om het bakken van een Côte de Boeuf, het stomen van mosselen of het grillen van paprika's, het kan allemaal op de OFYR BBQ.
Leer de fijne kneepjes van het vak
Om uw basistechnieken verder onder de knie te krijgen en de mogelijkheden van koken op de OFYR ten volle te benutten (maar ook om gewoon een gezellige avond te hebben…) bieden wij in samenwerking met het merk OFYR een fantastische OFYR kookworkshop aan.
Onder leiding van een professionele Chef leert u de fijne kneepjes van het koken & grillen op de OFYR. Aan het eind van dit avondvullend evenement kijkt u zonder twijfel terug op een gezellige, leerzame avond en bent u opnieuw wat verder met uw culinaire ontdekkingsreis.
Of maak van uw verjaardag een onvergetelijke dag…
Hoewel het een workshop is, leent dit evenement zich natuurlijk ook uitstekend om bijvoorbeeld een verjaardag of andere gelegenheid te vieren. Nodig wat familie en vrienden uit en geniet van een fantastische avond met heerlijk eten, een lekker drankje en een ongekende sfeer van warmte en vuur. Alle ingrediënten voor een onvergetelijke avond zijn aanwezig…
Heeft u interesse in een OFYR Workshop?
Wilt u een gezellige avond beleven met een OFYR workshop? Informeer dan vrijblijvend naar de beschikbare data. Heeft u nog andere vragen? Onze medewerkers vertellen u graag meer over de mogelijkheden.
Bel ons op 013-5451966 of stuur ons een email.