Wat is het verschil tussen houtskool en briketten?
Wat moet u kiezen wanneer u de bbq wilt aansteken? Maakt het wat uit wanneer u kiest voor houtskool of briketten? Een lang verhaal kort; Ja, dit maakt zeker verschil!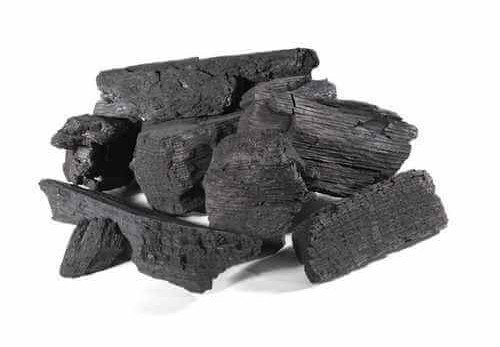 Houtskool bestaat uit stukken gecarboniseerd hout en is snel aan te steken. Briketten zijn vermalen gecarboniseerd hout met een binder - een zetmeel - die vervolgens onder hoge druk gevormd worden naar compacte kussentjes. Normaal gezien duurt het langer een briket aan te steken, maar het voordeel ervan is dat ze langer branden. Daarom is het altijd een goed idee om vooraf na te gaan welke brandstof u gaat gebruiken bij welk gerecht. De keuze voor houtskool of briketten hangt echt af van uw barbecue en uw grillvoorkeuren.
De voordelen van houtskool
Houtskool ontbrandt in vergelijking met briketten behoorlijk snel en bereikt zeer hoge temperaturen. Dit is een voordeel als u uw vlees snel dicht wilt schroeien. Omdat de samenstelling van houtskool is zoals hij is, worden er geen bind- of opvulmiddelen (met chemicaliën) toegevoegd. Hierdoor tast het bijvoorbeeld niet de binnenkant van keramische barbecues aan.
De voordelen van briketten
Briketten bestaan uit vermalen houtskool, gecombineerd met (soms natuurlijk) bindmiddel. Hetzelfde geldt voor kokosbriketten, alleen zijn deze milieuvriendelijker omdat er voor kokosnoten geen bomen worden omgehakt. Briketten worden gelijkmatig heet en blijven lang op een constante temperatuur. Dit komt goed van pas als u een groot stuk vlees wilt garen of een hele avond lang wilt barbecueën.
Dat briketten langer nodig hebben om aan te steken kan overigens voorkomen worden door het gebruik van een brikettenstarter, ook wel houtskoolstarter genoemd. Lees hier meer over het gebruik van een brikettenstarter.
Conclusie
Kortom, wil je lang barbecueën ov grotere stukken vlees op de grill leggen? In dat geval zijn de lang brandende briketten zeer aan te raden. Met de briketten kan het vlees langzaamaan garen en is kun je meerdere dinge na elkaar barbecueën. Wil je liever een hoge temperatuur bereiken om ene stuk vlees dicht te schroeien en relatief snel een maaltijd klaar te maken. Dan is houtskool een goede keuze. Bedenk dus voor het barbecueën hoelang en met welke temperaturen je wilt grillen en barbecueën maar!