Happy Cocooning Firetable Square Taupe
3 Reviews
5 out of 5 based on 3 reviews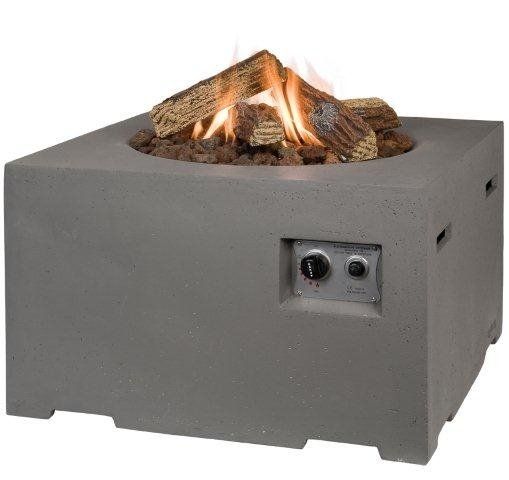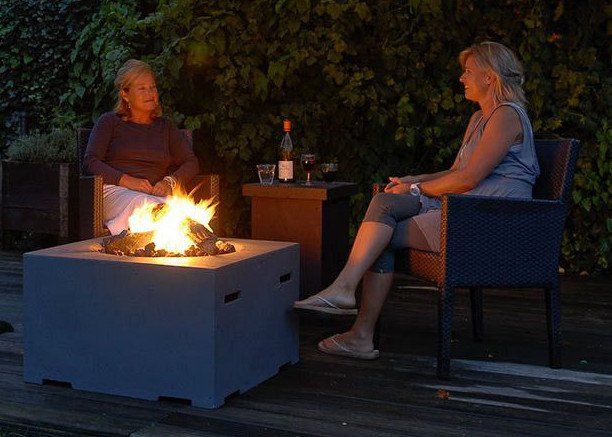 Happy Cocooning Firetable Square Taupe
All products are for the European market

Ordered before 17.00h,

SAME DAY

shipment

14 day reflection period

Pay later
Accessories for Happy Cocooning Firetable Square Taupe
Happy Cocooning Firetable Square Taupe
Now that we're increasingly focused on outdoor living, outdoor fireplaces have truly become an indispensable part of our gardens. And if you'd really like something special, then the stylish Cocoon Table is probably exactly what you're looking for!
This Happy Cocooning fire table is made of super solid composite. It's like having a heavy concrete table with a gas fireplace in your garden. In reality, it only weighs 45 kg. An additional plus is that composite can withstand extreme heat and cold. The fireplace can stay outside year-round without problems.
The gas fire table is very user-friendly and pleasing to the eye
The fire table is equipped with a 19.5 kW stainless steel burner that is nicely camouflaged by the included lava stones and real wood effect logs.
Lighting the fireplace is very easy with the electronic ignition with thermocouple. In addition, you can determine the height of the flame yourself by using the control dial, which is incorporated in a practical control panel, together with the ignition button.
The Cocoon Table should be connected to propane/butane gas. You'll need a gas pressure regulator to do this. This square fire table is also available in: Black, Anthracite and White.
The Cocoon Firetable comes with:
- Logs (5 pieces)
- Lava stones (4 pieces)
- PVC protective cover
- CE-approved rubber gas hose (250 cm)
-
Gas pressure regulator 30 mBar is NOT included
The Happy Cocooning Firetable Square Taupe in short:
- Luxury gas fire table
- Stylish square design
- Easy to light with electronic ignition with thermocouple
- Also available in: Anthracite, White and Black
- View the
Cocoon Table User Manual
here
- Attractive, Comfortable and user-friendly gas fireplace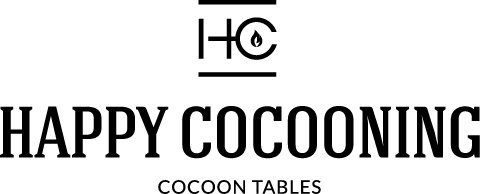 The COCOON TABLE is a lounge table made of composite with a concrete look that will make all other fire tables pale in comparison. The gas fireplace will allow you to enjoy the pleasant atmosphere of summer evenings for even longer.
Cocoon fire tables are manufactured by a Dutch company that is known by the name Happy Cocooning. For the selling of Cocoon Tables, they work closely with a carefully selected network of stores. Happy Cocooning knows that customers must be able to trust in the vendor's sound advice regarding these stylish fire tables.
Read more
Specifications
| | |
| --- | --- |
| Brand | Happy Cocooning |
| Model | Firetable |
| Article number | SRS6504T |
| Color | Taupe |
| Material | Composite |
| Dimensions | L 76 x W 76 x H 46 cm |
| Weight | 45 kg |
| Included | See product description |
| Shape | Square |
| Capacity | 19,5 kW |
| Control-Panel | Stainless Steel with black bakelite control switch |
| Burner | Stainless Steel, 19.5 kW |
| Gas bottle | Cannot be stored at the bottom of the Firetable |
| Ignition | Electronic ignition with thermocouple, safety design and CE-approval. |
Jan Vanhentenrijck
Vuurtafel perfect van grootte voor een oppervlak van 150 cm lengte en 250 cm diepte (overdekt terras ,is de oppervlakte waar de haard + 2 stoelen staan ) Totale oppervlakte van Terras is 1300cm op 250cm . Makkelijke installatie en gebruik, handig dat gasslang al gemonteerd is. Degelijk materiaal, zeer tevreden .
no name
Sehr hochwertiger und schicker Terrassenkamin. Lieferung schnell und alles in Ordnung. Einziger Kritikpunkt: Anleitung und Emailverkehr auf Deutsch wäre wünschenswert.
Other people also viewed these products
Bundles

Happy Cocooning Firetable Square Taupe

€550.00

Happy Cocooning Glass Screen Surround Large

€119.00

Gimeg Universal Gas Pressure Regulator (50 mbar)

€9.95

Save 6.00% on accessories

Happy Cocooning Firetable Square Taupe

+

+

Happy Cocooning Firetable Square Taupe

€550.00

Happy Cocooning Glass Screen Surround Large

€119.00

Gimeg Universal Gas Pressure Regulator 30mbar

€9.95

Save 6.00% on accessories

Happy Cocooning Firetable Square Taupe

+

+

Happy Cocooning Firetable Square Taupe

€550.00

Happy Cocooning Glass Screen Surround Large

€119.00

Happy Cocooning Side Table Large

€109.00

Gimeg Universal Gas Pressure Regulator (50 mbar)

€9.95

Save 8.00% on accessories

Happy Cocooning Firetable Square Taupe

€550.00

Happy Cocooning Glass Screen Surround Large

€119.00

Happy Cocooning Side Table Large

€109.00

Gimeg Universal Gas Pressure Regulator 30mbar

€9.95

Save 8.00% on accessories

Happy Cocooning Firetable Square Taupe

€550.00

Happy Cocooning Glass Screen Surround Large

€119.00

Happy C. Enclosure LPG Tank Taupe

€199.00

Gimeg Universal Gas Pressure Regulator (50 mbar)

€9.95

Save 8.00% on accessories

Happy Cocooning Firetable Square Taupe

€550.00

Happy Cocooning Glass Screen Surround Large

€119.00

Happy C. Enclosure LPG Tank Taupe

€199.00

Gimeg Universal Gas Pressure Regulator 30mbar

€9.95

Save 8.00% on accessories

Happy Cocooning Firetable Square Taupe

€550.00

Happy Cocooning Glass Screen Surround Large

€119.00

Happy C. Enclosure LPG Tank Taupe

€199.00

Happy Cocooning Side Table Large

€109.00

Gimeg Universal Gas Pressure Regulator 30mbar

€9.95

Save 10.00% on accessories

Happy Cocooning Firetable Square Taupe

€550.00

Happy Cocooning Glass Screen Surround Large

€119.00

Happy C. Enclosure LPG Tank Taupe

€199.00

Happy Cocooning Side Table Large

€109.00

Gimeg Universal Gas Pressure Regulator (50 mbar)

€9.95

Save 10.00% on accessories