€549.00
(retail price)
€395.00
14 day reflection period
Pay later
If ordered before 17.00h.,

same day

shipment

All products are for the

European

market
Notify me when this product is in stock
Firepits UK - Tower 90 BBQ fire Bowl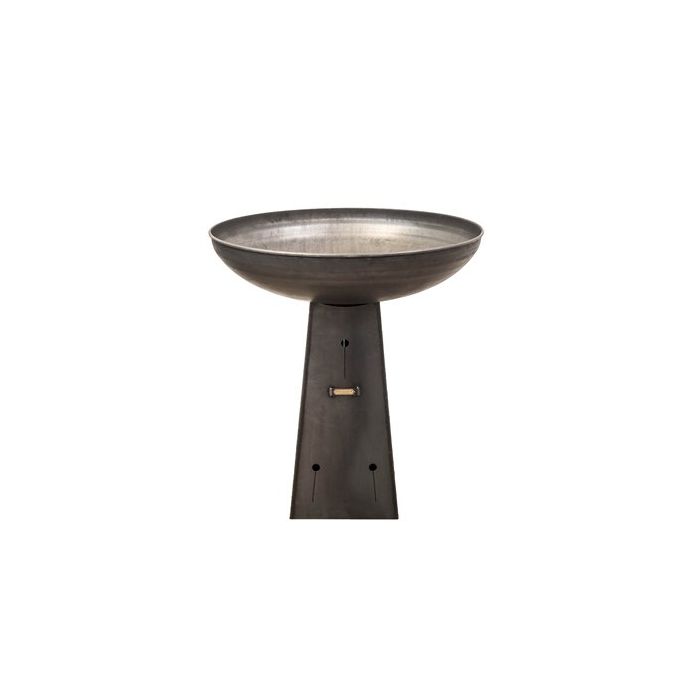 Product description
Tower 90 Fire bowl BBQ

If you like to enjoy a delicious barbecue around an authentic crackling fire, the Tower 90 fire bowl BBQ makes it all possible. This multifunctional cooker can be expanded with a range of accessories: baking with a plancha, cooking meat on a grill, it's all possible. Cooking outdoors has never been this much fun!
Fire bowl on a base with lots of accessories as option
The Tower 90 is a rugged fire bowl on a base, made from 3-4 mm thick steel. The bowl has a diameter of 90 cm on which you can put a grill or Read more griddle. There is a range of accessories available to expand the use of the Tower 90.
The size makes it easy to barbecue for large groups. After the barbecue, you simply remove the grill or cooking plate to enjoy the warm fire in the fire bowl. Once everyone has eaten, there is nothing more enjoyable than having a drink around a nice fire.
And if you do not use the Tower as a cooker but only for making a warm and radiant fire, you will notice that everyone's attention will be drawn to this rugged fire bowl.
Easy to use and easy to clean
The high base makes this fire bowl a pleasure to use. Stoking up the fire or turning a piece of meat happens at a height of approximately one metre.
It is simple to maintain the Tower. Use a steel brush to clean the fire bowl and base and oil them afterwards, if necessary. If the Tower is cleaned with oil, it may eventually rust. This will give it a dark autumn colour which can look quite nice. On the other hand, you can be rest assured that the rust will not penetrate the Tower 90 as it is made from 3-4 mm thick steel.
Cleaning the griddle or the barbecue grill couldn't be easier. Food scraps and excess oil go straight into the fire. The griddle can be easily cleaned with a spatula as everything can be scraped into the fire. Afterwards, you simply clean the grill or griddle with a damp cloth.
De Tower 90 Fire bowl BBQ in a nutshell:
- Rugged fire bowl on a base
- Can be used as fire basket, barbecue and plancha
- Outdoor cooking on an authentic fire
- Unique design
- Easy to clean
- Easy to transport: The Tower 90 consists of two parts (base and fire bowl)
- High quality: made from 3-4 mm thick steel
- Available in two sizes: Ø 80 cm en Ø 90 cm
- Grill, griddle and lid are available as options and can be ordered separately as accessories
- Also particularly suitable for catering purposes
Read less
Specifications
Model
Firepit The Tower 90
Dimensions
Height 100 cm (base 75 cm / fire bowl 25 cm)
Write a review about Firepits UK - Tower 90 BBQ fire Bowl
And possibly win a € 100,- giftcard
This one! Firepits UK - Tower 90 BBQ fire Bowl
€549.00
(retail price)
€395.00