Assortment Fire-Up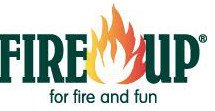 Fire-Up
Fire-Up International has been presenting itself as the specialist in the field of fire related products for fireplace, heater, barbecue and related items for more than 25 years.
Fire-Up is the manufacturer of the Brown ecological firelighters and has a wide product range consisting of, among other things, charcoal, briquettes, lighting fluid, fire gel, BBQ tools, paraffin logs and much more ...
All of these products have a high level of quality, convenience and safety, and the selection of our product range is, up to a large extent, determined by eco-friendly aspects.
Fire-Up lighting products have been part of our product selection for quite some time now. Judging from the many comments and reviews, we can say that our customers are very excited about the quality of these products. Many of our customers come back regularly to place a new order.
Watch a short instruction film below about the safe use of the Fire Up firelighters: