Ordered before 17.00h,

SAME DAY

shipment
14 day reflection period
Pay later
All products are for the

European

market
Notify me when this product is in stock
Faber The Mood gas fire (CortenSteel)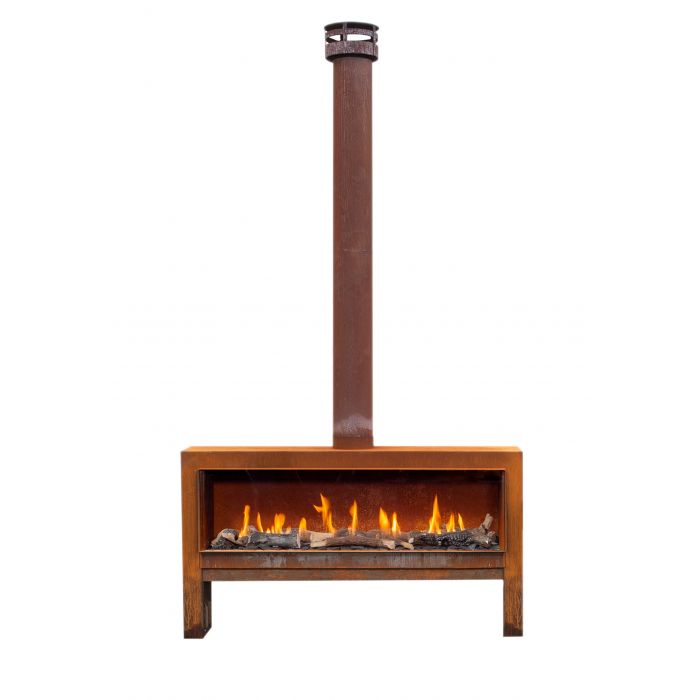 Product description
THE MOOD OUTDOOR GAS FIREPLACE
The Mood gas fireplace from Dimplex is a stunning looking outdoor gas fire providing you with lots of warmth during chilly summer evenings.
The gas fire can be used both as stand-alone and integral unit and the fire can be positioned with front view or a double glass sided model. This fireplace is Dimplex's response to the increasing trend to bring home comforts outdoors. The Mood from Faber provides both warmth and ambiance!
Faber Dimplex gas fire from Corten steel
The Mood from Dimplex has a width of 126 cm and is 73.8 cm high. If you include the Read more long flue pipe, the fireplace has a height of 223.8 cm.
The outdoor fireplace is made from beautiful Corten steel. The natural, brown rusty colour of this gas fireplace means that it looks great in every garden or on a veranda.
There are different options for the assembly of The Mood from Faber Dimplex
The Mood gas fire from Dimplex can be placed as a stand-alone unit or as an integrated unit. As a stand-alone unit, this fireplace serves as a beautiful garden object, and as an integrated unit it gives you the option to connected two separate parts of the garden.
The outdoor fireplace has a tube burner for a realistic fire effect. For decorative purposes, you can choose either a wood log set or Carrara pebbles. Please indicate above which one you would like to receive. The pebbles or wood logs can be ordered separately if you fancy a change in the future.
Comfortable outdoor gas fireplace
The Mood from Faber Dimplex is a comfortable outdoor gas fireplace. Since this fireplace is conventionally fuelled, all gasses go straight up through the flue pipe. And as this is an outdoor fireplace, it uses the oxygen in the environment.
The Mood from Dimplex is supplied with propane gas as standard but if you prefer natural gas, you can indicate this above. When you choose natural gas, the fireplace can be connected to a natural gas network. The performance is the same, regardless of whether you use natural gas or propane. An outdoor gas socket is available as an extra option, against additional costs.
The Mood gas fire from Faber Dimplex in a nutshell:
- Cosy, comfortable and user-friendly gas fire
- Cosy warmth
- Made from attractive Corten steel
- Can be ordered with front view or as a double glass sided model
- Wood log set or pebbles included
- Standard with propane gas but can also be connected to natural gas
- Extension pipe (1 metre) and/or illustrated venting kit can be ordered separately (not included as standard)

The Faber Dimplex brand has been known for their beautiful fireplaces since 1844. The fireplaces from Faber are not only very practical but are also beautifully designed.
The Faber brand is part of Glen Dimplex Benelux and produces gas fires, electric fires and wood stoves, among other things. The company is part of the Irish Glen Dimplex Group. Glen Dimplex is the largest manufacturer of electric heating systems and decorative fireplaces in the world. Besides its head office in Heerenveen, Glen Dimplex Benelux also has offices in Belgium and Germany. Faber exports its products to 24 other European countries. One thing is certain: Faber provides warmth and ambiance!
Read less
Specifications
Model
Faber The Mood gas fire (CortenSteel)
Dimensions
H 73.8 x W 126 cm (height including pipe 223.8 cm)
Included
Kiezel- of houtblokkenset
Fuel
Propane gas or natural gas
Consumption
0,94 kg per hour
Ignition
Electronic ignition
Type of heating
Natural gas or propane
This one!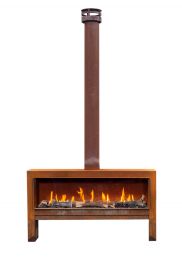 Faber The Mood gas fire (CortenSteel)