The perfect table for every Kamado
Have you already built up a large assortment around your Kamado and do you want to cook outside easily? KamadoSpace's luxurious tables form a complete outdoor kitchen in combination with your own Kamado barbecue. All your accessories can be easily stored and of course there is a special place for your Kamado in this high-quality outdoor kitchen. At KamadoSpace they have thought of everything!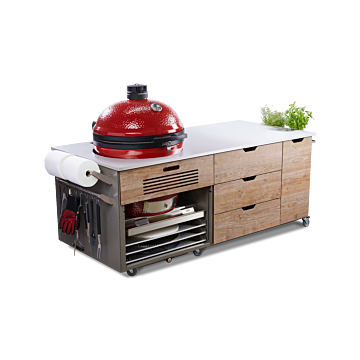 0 Reviews
L 242 x W 98 x H 90 cm
Suitable for Kamados up to 76 cm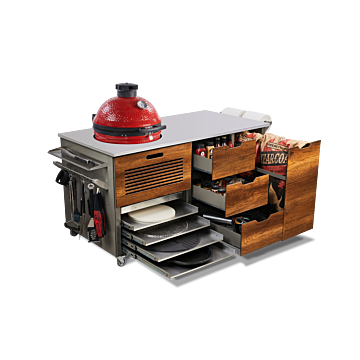 0 Reviews
L 189 x W 84 x H 90 cm
Suitable for Kamados up to 61 cm
Ordered before 17.00h,

SAME DAY

shipment

Delivery from

STOCK

Pay later
KamadoSpace for your Kamado!
Do you already have a wide range of kitchen tools to prepare delicious meals on your Kamado, but are you still missing a real outdoor kitchen and a place to store your tools? If so, the KamadoSpace tables are a real must-have for you! The KamadoSpace tables are real outdoor kitchens in which your Kamado can be placed and where all your kitchen utensils, pans and pots can be stored. The nice thing about the outdoor kitchen is that the unit is on wheels. That way you can easily move the outdoor kitchen into the storage room and put it away.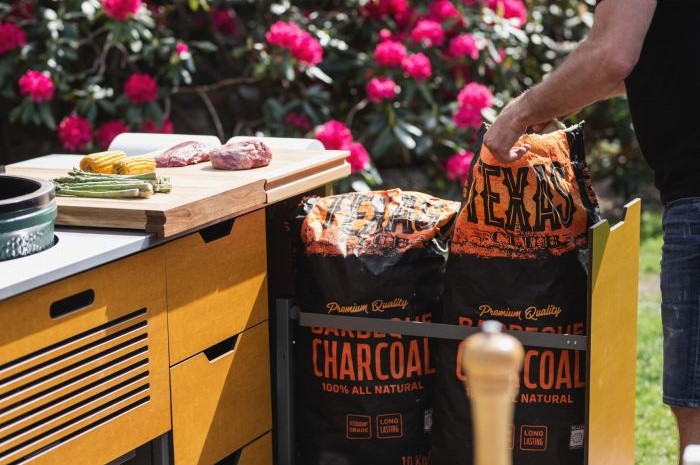 KamadoSpace design
Naturally, KamadoSpace's islands have to be able to withstand severe weather conditions. The panels of the kitchen are made of HPL which is a very sturdy material to leave outside and easy to clean. A luxury addition to the islands is the soft-close system of the drawers and cupboards. This ensures that the drawers and cabinets do not slam shut too hard and that the table remains beautiful.
The island has a very practical layout. When you are grilling in front of the Kamado, you can pull open the drawers next to you and grab your tools. So you can easily prepare your favourite meals and have everything to hand. Also on the side of the outdoor kitchen there is space to put all kinds of kitchen utensils.
KamadoSpace Infinite Island
The KamadoSpace Infinite Island is the outdoor kitchen for the amateur and professional chef. A cook needs enough space to put things away and to be able to cook deliciously. KamadoSpace has thought about this. With this island you can place your Kamado barbecue (up to 61 cm in diameter) and also cut your meat, make a salad or prepare a delicious cheeseboard. Besides the extra workspace, this outdoor kitchen has no less than three drawers, each with a capacity of 68 litres. These drawers hold all the utensils you need and more. Also store your jars with herbs, oils and other spices in this fantastic outdoor kitchen. On the side of the kitchen there is a rack for loose utensils such as spatulas, tongs and gloves, and you can also hang up a roll of kitchen paper.
Besides the huge drawers, this outdoor kitchen also has several cabinets. Here you can put all your kitchen utensils such as larger pots, pans or food. This way, all you have to do is set up your kitchen and bring the food. Get your utensils out and start grilling!
KamadoSpace Infinite Island XL
The KamadoSpace XL of the Infinite Island is a more extensive variant of the normal KamadoSpace Infinite Island. For 800 euros more, you get extra large drawers and larger cabinets with this outdoor kitchen. Even more storage space! The XL island can accommodate a Kamado up to 76 cm in diameter. So the biggest Kamados can fit in and also the professional barbecue fanatics can have a go.
On the side of this island there is another bar for hanging cooking utensils such as tongs and gloves. Above it, you can also place a roll of kitchen paper. This way, you can easily clean the table and kamado after use.
Personalise your KamadoSpace
After purchasing a Kamaod Space Island at Firepit-online.com we will contact you. You can choose between 5 different colours for the cabinets of the KamadoSpace and the worktop is custom made for your kamado! So everything fits perfectly and you have your ideal colour outdoor kitchen. Of course you can contact us to discuss further details.
View all outdoor cooking possibilities
Are you a real barbecue fan and are you ready for an upgrade or do you want to start barbecuing? Then take a look at our entire range of barbecues and all the other options for great outdoor cooking!