Corf Circular Firepit
Corf is a firepit made by a StartUp company that has been working on circularity since 2021. The company makes sure old discarded products get a new life, including their newest addition Corf! Corf is based on the unique design of the washing drum as you know it.
Corf. The circular fire pit.
By using old washing machine drums, these fire pits are a sustainable option. The drum has been completely modified to be 100% suitable as a fire pit, so that you can light a great fire. The beauty of the fire pit is the sleek design in combination with the sturdy appearance. Corf is not only a fire pit, it is a product that will be given a second life.
The brand stands for sustainability and is developing circular products in order to deliver a unique design in combination with a well functioning product. By means of the C-Coating layer that is sprayed over the pit, it can withstand heat (+1000° Celsius) and is protected from the elements.
The design of the Corf
The design of the Corf is simple but well thought-out. The fire pit stands on a leg that is also a part of the washing machine. This gives the fire pit a durable look and you can see that the Corf has been totally transformed into a beautiful design fire pit. The fire pit itself has many holes through which the fire pit gets enough oxygen and thus the fire will burn great. You can also see the flames dancing in the pit through the holes.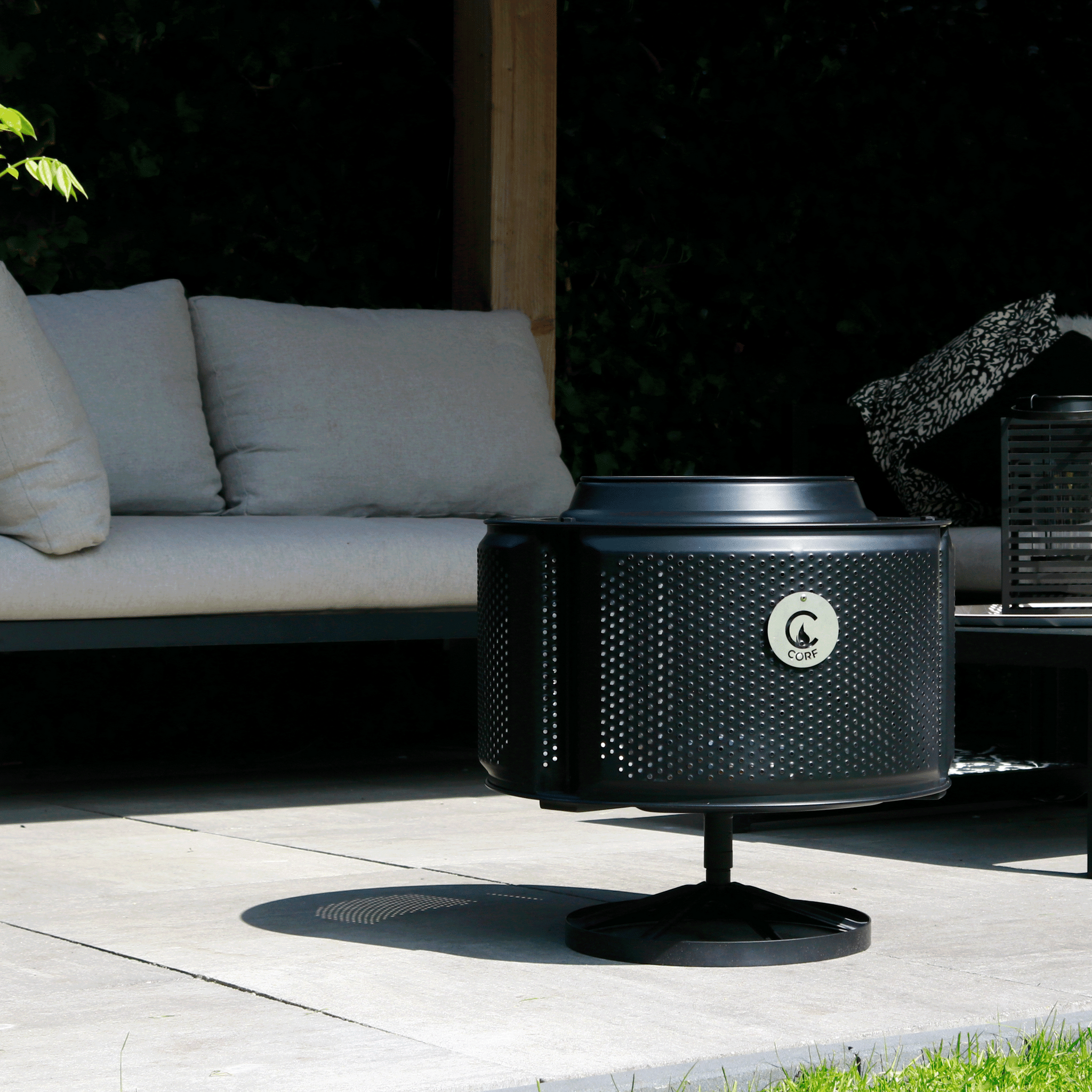 Complete combustion
The gift of this fire pit is the way the firewood will completely burn. Because of the many oxygen, the fire can burn well and it will burn beautifully. Because of the oxygen, there will be little smoke and the fire will consist entirely of orange flames. This is a huge advantage of this fire pit so you can enjoy the Corf for hours and will not experience any smoke nuisance.
Interested in fire pits and want to see more? Then take a look at our page for fire pits!
Questions about Corf?
Do you have any questions about Corf or other products? Mail us via the contact form or call customer service.